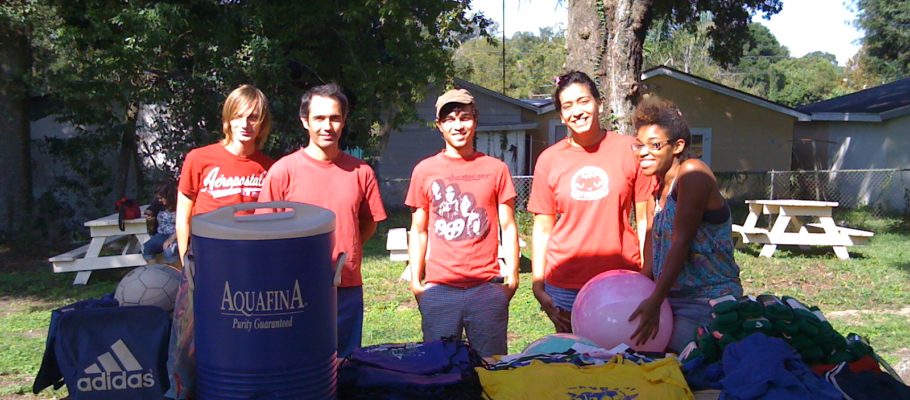 On October 1st, 2011, Farm Worker Self-Help held a gathering in Dade city, introducing new soccer field property to various families and supporters.
Among the many supporters were seven YAYA members, myself non included, who partook in the distribution of soccer equipment donations, face painting, kite flying, bubble blowing, moon bouncing, socializing, and of course the christening of the new soccer field, with all the children.
We couldnt leave the adults out, so there was plenty of time to catch up between several inspiring speeches that were given, and game breaks for authentic Mexican foods and head shaving -"our story" for this month's breast cancer awareness.
For YAYA, I know this was a pivotal point in what we do. Experiencing this event definitely made the difference in whether or not we are effecting people's lives, and letting them know that we back them 115 percent. It was a day for fun and connection, but it was also a step in the direction of freedom.
For me, it was an entirely new experience. Being new to the YAYA group, I'm still learning much about my position and what I can do to make a difference, the fact that I can even make a difference is quite miraculous.
Even being the free spirit I am by nature did not prepare me for what I encountered on this day. I could have never expected to feel so nervous, engaged, welcomed, befriended, or rewarded as I did. Just knowing that my tiny part changed a heart or two that day, means to me, that we are headed the right way.
Gui Yahna
Tampa Bay YAYA
We would like to thank Farm Worker Self-Help and the community of City for welcoming us to their community and sharing this special day with us!
Also, a special thank you to Peace Passers for the soccer donations that we distributed that day!