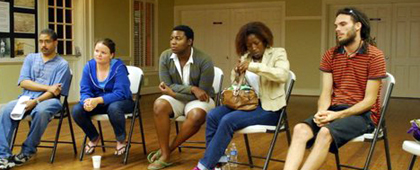 On September 14th, the time came for Orlando YAYA to have our long awaited membership meeting at the First Congregational Church of Winter Park, for which we decided to screen a movie. Members brought delicious food and drinks and our table looked beautiful for the occasion (Dominique did an amazing job, as usual).
After a bit everyone arrived and it was time to get the movie started, we were showing "Viva la Causa," a documentary about the struggles of the farm workers trying to organize for the first time back in the 1960's and 70's with a focus on Cesar Chavez; the legendary civil rights leader that made it all happen. I was specially excited for this movie since I had not seen it and I had heard that George Lopez narrated it, and I love George Lopez. The movie was very well done, I did not expect it to be so good; it made me proud to be part of the struggle.
Now, membership meetings are meant to, get this, increase our membership! We have these once a month and we tailor them to be educational and fun so new people can get excited and return next time when we have meetings to organize actions or just catch up on what we've been up to and what we need to work on to be more effective.
After the movie was done we had a conversation overlooking the themes in the movie to make sure everyone was on the same page and to relieve it; the movie was really good! Of course, it wasn't all just conversations and sharing the meeting had also been looking forward to seeing ACAT (Anti-Chase Action Team) do a preview of the dance routine they had been working on, to effectively and decisively educate the public on the struggles of tobacco harvesters. The dance routine went really well. I, a member of ACAT, was especially happy and excited to show the rest of our members what we had been working on, and let me tell you, it was a success.
Until next time,
– Juan Barredo
Orlando YAYA
(Photos courtesy of Juan Barredo)