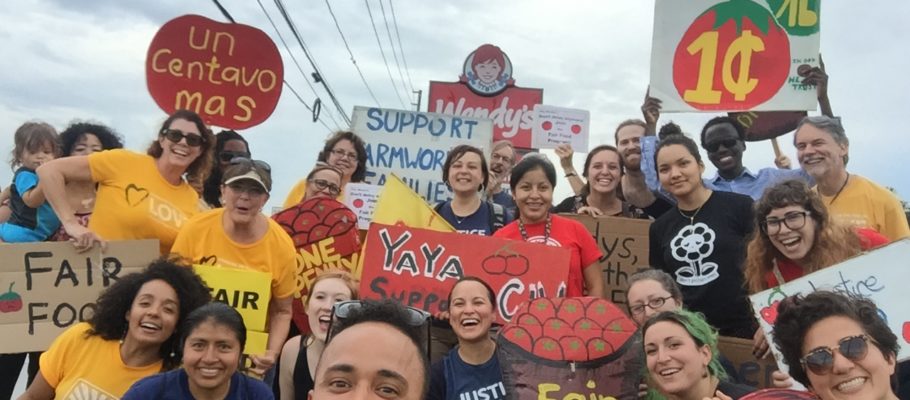 On Monday, September 28th, Orlando YAYA organized an action in support of the Coalition of Immokalee Workers (CIW) and the Student/Farmworker Alliance (SFA) "Schooling Wendy's" national week of action, September 27 – October 4, to call on the last major fast food retailer to join the Fair Food Program (FFP). The action commenced at 530PM – high traffic time – at the Wendy's near the University of Central Florida's campus to gather student support of the campaign. Over 30 community members attended, from faith leaders to labor to students, to ask, "what's the hold up, Wendy's?"
Folks picketed the University Wendy's for an hour and brought tons of animo to the event. We were even joined by our friends from Immokalee who drove 3 plus hours to show support for the action. Towards the end of our picket a small delegation (Jonathan Alingu – JwJ, Charlie Behrens – 1st Unitarian Church of Orlando, Julia Dela Cruz – CIW, and Carmen Mason – SFA) went to deliver a letter to the acting manager at the time. Unfortunately, we have suspicion to believe Wendy's sent out a memo to our stores stating to not take the letter from the CIW or allies on behalf of the FFP. Although this particular Wendy's manager didn't take our letter, she heard our message and said she would look into the FFP on her own time! A small win to have workers invested in each other's work.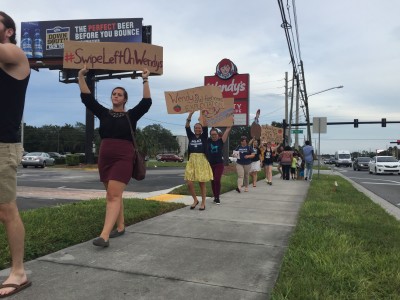 Wendy's is the last of the 5 major fast food retailers to sign-on to the Fair Food Program
guaranteeing a basic code of ethics in tomato fields are purchased from as well as a penny premium per pound picked. The other four, McDonalds, Subway, Taco Bell, and Burger King, have all joined the Fair Food Program, but with Wendy's not agreeing to sign with the FFP they're holding out on bringing a new day in the fields to tomato pickers in Florida. Again, what's the hold up, Wendy's?
Actions such as these are important for YAYA-NFWM and community members to continue to pressure corporations and companies to be on the right side of history and end modern-day slavery in tomato fields in FL. As consumers, we often forget our bargaining power when it comes to demanding these retailers change their supply chain practices. We must exercise our power until justice prevails in the lives of all farm workers. And, it will!
Until then, fight, fight, fight!
Nico Gumbs
YAYA coordinator