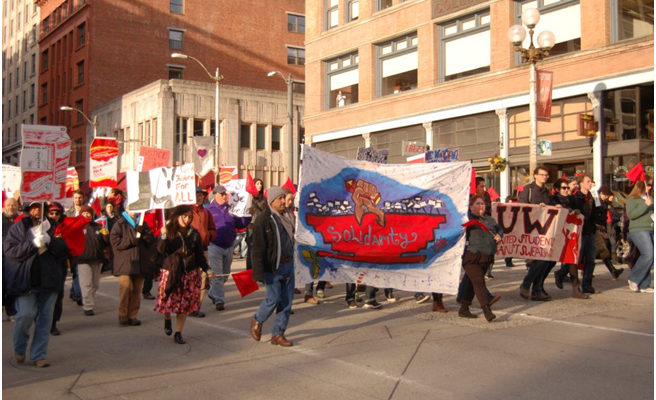 On January 27th, farm workers from Ruby Ridge Dairy and Occupiers from the Seattle area joined together to march through the streets of Seattle to Darigold's headquarters. The crowd of nearly 1,000 delivered a petition with 20,000 signatures calling on Darigold, a large dairy cooperative which processes and markets Ruby Ridge milk, "to take immediate action to resolve the issues facing workers at Ruby Ridge dairy."
Darigold allowed representatives inside to deliver the petition, but, once again, they did not send out a representative to talk with the workers. The crowd responded by holding a press conference outside with a megaphone to be sure Darigold heard the workers message about the conditions at Ruby Ridge.
Former Ruby Ridge worker, Jose Juan Zamora told the crowd, "At this company, the work is very hard. They want us to do work in eight hours, but it's impossible. It's very hard work, and they didn't give us breaks or decent water. The water they gave us was the dirty water from where the cows drink."
Lynne Dobson , the Secretary-Treasurer of the Washington State Labor Council said, "When we drink our milk, we like to think that happy cows are on farms where the sun is shining, and people are working for some hours a day, working hard, but then treated right. That's not what's happening at Ruby Ridge. The workers didn't have breaks. They're not given their right to organize, which is a fundamental human right. This is wrong. The Washington State Labor Council and our 460,000 members urge Darigold to do the right thing. Be good corporate citizens. Call on Ruby Ridge to stop these practices, to treat their workers well, and to move forward. Let's not have this milk go sour."
The Ruby Ridge workers thank everyone who signed the petition and ask that you continue supporting their campaign for UFW representation and better working conditions. Keep updated on the workers' escalating campaign.