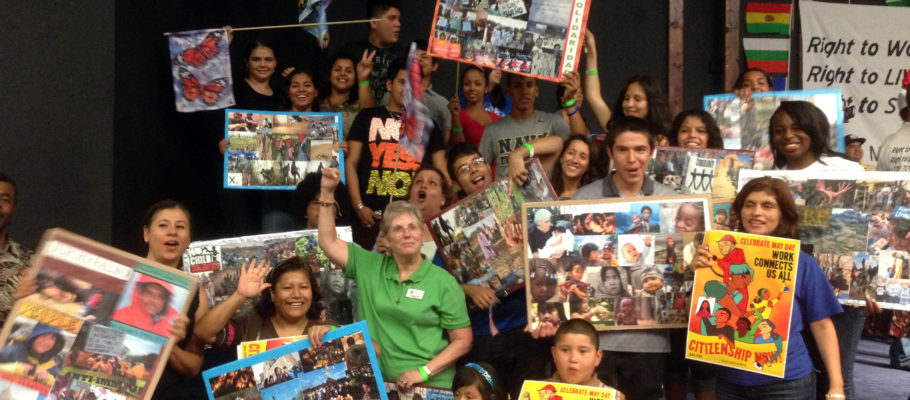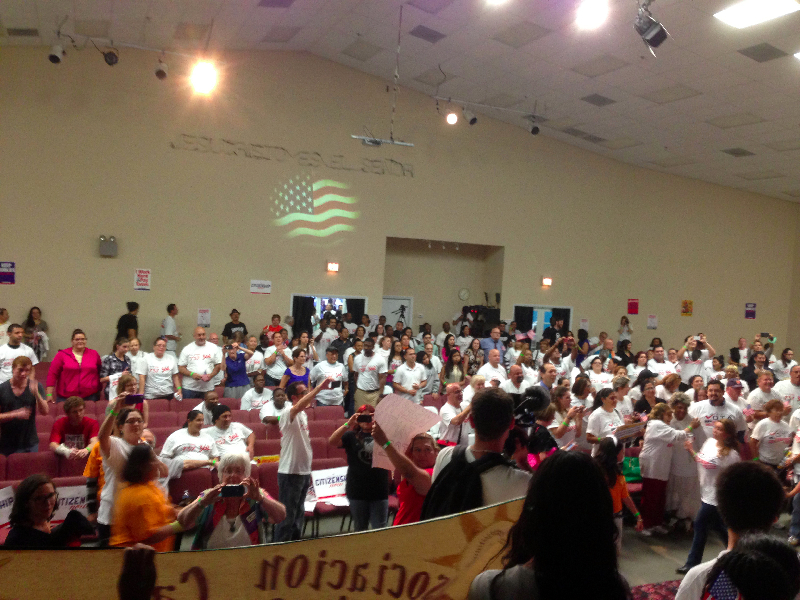 On May 1, 2013, YAYA members attended the Right to Live, Work, and Stay Together event at the Fountain of Living Water Church in south Orlando.
Nico, Emily,Brian, Rosa, Jonathan, Ana Rosa, and Miguel from YAYA attended. We met with friends from FWAF. It felt like the wonderful DC Lobby event all over again. Unions and other progressive organizations such as Student Labor Action Project (SLAP), Jobs With Justice (JWJ) of Orlando, and too many others to mention also attended.
The evening was filled with music and promise. A Mexican mariachi band opened the event and ended with a Puerto Rican percussion band. Countries that send migrant and immigrant workers from around the world were honored. The media was there.
Speakers from immigrants to union organizers to religious leaders to U.S.House representatives – such as Luis Gutierrez (via pre-recorded video) and Alan Grayson -spoke. There were around ten speakers, but each person talked so well that the time went by fairly quickly. Perhaps too quickly.
What is happening with the immigrant rights movement has rarely, if ever, been seen in history. This movement has galvanized different ethnic and race groups, gender identities, and religious communities that hardly ever collaborated in the past. Four languages were spoken at the event: English, Spanish, Creole, and Arabic. Yes, even Muslim representation was also present. It appeared as if the world was in one room for one night: Christians along Muslims, Hispanics along Anglos, and African Americans along Caribbean immigrants. Even LGBTQ rights were promoted. Not even the Civil Rights movement saw this type of
solidarity.
This is not just happening in Orlando, Florida, but all over the country.
The May Day rally in Orlando sought to assert that we are all one. We are American,and we are here to stay, because we have a right to live, a right to work, and a right to stay together. This is not just an American ideal, but a spiritual desire, a religious mandate, a human right. We speak as one. We speak with truth. We speak truth to power. We contribute, we share, we progress. We no longer ask for acceptance. We demand it. We earned it. We will not turn around. We will move forward. That is the only direction we know.
The African concept of ubuntu that states that "my humanity depends on and is bound up in my brother's and sister's humanity." Those of us gathered on that May Day event standing for worker solidarity around the world also stood united as brothers and sisters in America for immigration rights. We are becoming one movement, one force, and one family.
And all together in one voice we proclaim, "Si se puede!"
Miguel Rodriguez
Orlando YAYA
You can watch a video of this event by clicking here.
Photos courtesy of Emily Helm