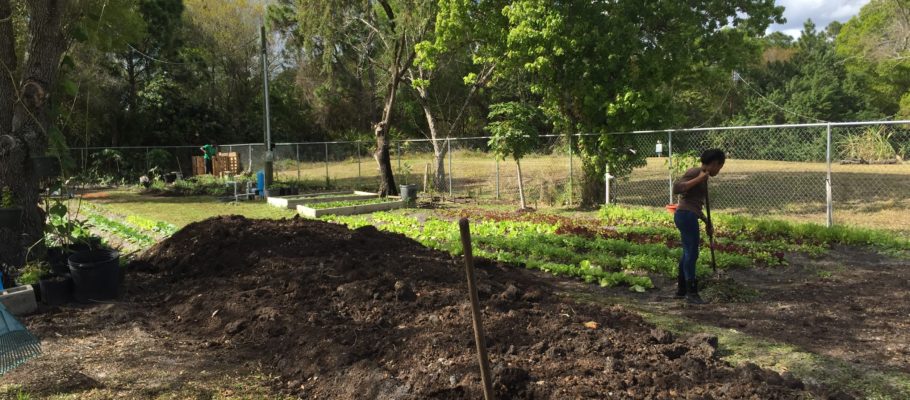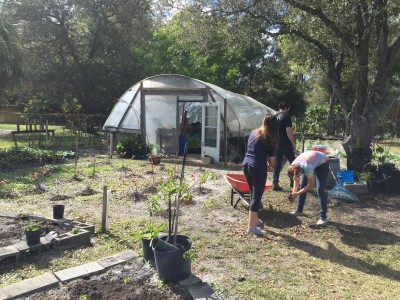 On Saturday, February 7, Nico, Brian, Rachel and I traveled to Fellsmere to help out in the community gardens there. Fellsmere is a farm worker community that YAYA has an ongoing relationship with, and we often travel there to help in the gardens. The Fellsmere Campesinos Garden is an important project where members of the farm worker community of Fellsmere, members of FWAF (The Farmworker Association of Florida), and allies work together to grow healthy food. The gardens provide fresh food for the farm workers who work tirelessly to pick fresh food that they often don't have access to or money to buy. As Yolanda explained, a lot of the farm workers like Maria, who came out and helped in the garden with her two children, are passionate about growing food, but after working such long hours often don't have time to maintain the garden on a regular basis. That's one reason why this project is a collaboration between so many groups and why YAYA goes to Fellsmere to help out as often as we can.
The purpose of this trip specifically was to help the Fellsmere farm worker community prepare for the first ever Campesino-á-Campesino Agroecology Encuentro, which is happening next weekend (February 12-16). People are coming to this Encuentro from all over the country, and Yolanda, one organizer of the project, wanted to make sure that the garden looked nice. This is going to be the first Encuentro of this kind in the United States and will be held in Fellsmere and Homestead – two rural migrant worker communities. The Encuentro is going to be an awesome event that will promote sustainable agriculture, the relationship of farming with the earth, and provide a forum for farm worker women to learn from and collaborate with each other. It will also take the premise of the Campesino Garden project by expanding on agroecology principles while putting the Mother Earth – the land – first and in partnership with farm workers and farmers.
When we got to Fellsmere, Yolanda and Maru fed us a delicious breakfast and then we went out to the garden to get our hands dirty. Although the YAYA group was smaller than usual, we worked with Yolanda, Maru, Blain, Maria, and others and got a lot done in the garden. We weeded a lot of the plots, and spread manure around for organic fertilizer. We also all worked together to clear a large area in the corner to make a compost pile. Clearing that was a feat in itself, but actually didn't take that long with us all working together. We then moved wooden pallets into the area to make boxes for three compost piles. Blain was very helpful in educating us how to build a good compost pile. We also put a PVC pipe in each pile, which is a method of aerating the pile without turning it. This method makes a more convenient compost system for the farm workers, because it will create successful compost without someone having to turn the pile every day, which can be physically straining and time intensive – this was something I had never heard of and I learned a lot. We also got to eat carrots straight out of the ground, and it was probably the best carrot I ever had!
After our day of hard work, we went got to eat another delicious meal prepared by Yolanda and Maru and was a great end to our day. It was my second time going to Fellsmere to help with the Campesinos garden, and it was a great experience once again. I think that it is my favorite thing that YAYA does to work in solidarity with farm workers, and I'm glad that I got the opportunity to take part in another awesome community garden day.
Jena Ashwill
Orlando YAYA