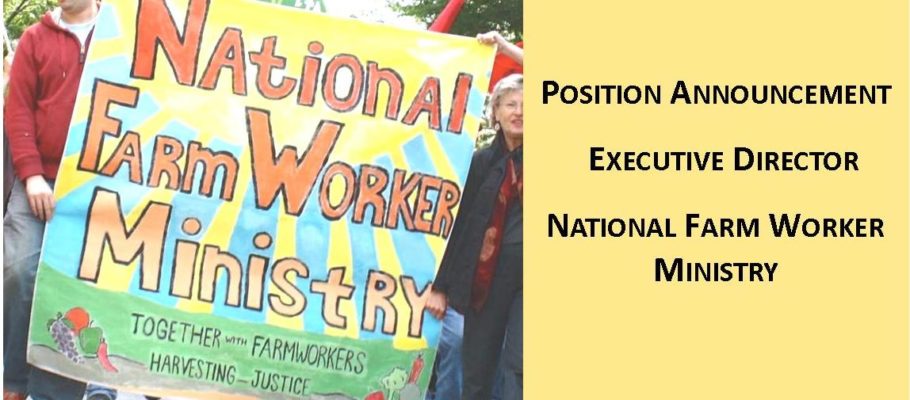 Position Announcement
Executive Director National Farm Worker Ministry
National Farm Worker Ministry (NFWM) seeks a dynamic, passionate leader with demonstrated commitment to social justice for the position of Executive Director.
ORGANIZATIONAL OVERVIEW
NFWM is a national faith-based organization committed to justice for and empowerment of farm workers. Since its organization in 1971, the ministry has worked with farm workers in their struggle for justice and equality and supported farm-worker-led efforts to improve wages and working and living conditions. The organization has partnered and engaged with farm workers in their communities and campaigns with a focus on educating, equipping, and mobilizing member organizations, other faith communities and justice seekers for effective support of those efforts both regionally and nationally.
POSITION OVERVIEW
The Executive Director is both the public face of NFWM and the senior manager of this national nonprofit organization. The successful candidate will have a demonstrated commitment to social, economic, and racial justice through work with immigrant communities or other marginalized groups. Strong written and oral communication skills which include the ability to effectively communicate with people of diverse cultures, faiths, and advocacy perspectives are essential. The successful candidate will have leadership experience with faith communities, proven ability to expand constituencies and relationships, and a record of effective fundraising from a variety of sources. The successful candidate should have a proven, engaging, and collaborative leadership style. They should be able to foster a positive and productive organizational culture and build community with both the staff and Board. A Bachelor's degree or higher from an accredited university is required. Prior nonprofit leadership and experience with farm worker unions or farm-worker-led advocacy organizations are highly desirable. Spanish fluency is likewise desirable.
NFWM seeks to provide salary and benefit levels roughly comparable to other religious and social-justice non-profit organizations of similar size/budget, and farm worker organizing groups. Total compensation includes salary, health/dental insurance, pension plan, paid time off, annual professional development opportunities, and a commitment to work-life balance.
LOCATION
The Executive Director would be based at the NFWM office in Raleigh, North Carolina.
APPLICATION INFORMATION
A full job description is available. Applications should include a letter of interest and a current resumé which includes educational history, a record of employment with summary of duties and roles (indicate reasons for any gaps in employment), and contact information for at least three references. Interested candidates should submit their resumés or inquiries to nfwmedsearch@nfwm.org. No phone calls please. Send documents in Microsoft Word or pdf format. Put "NFWM ED JOB SEARCH" in the subject of each email sent. Application reviews will begin April 6th and will continue until filled.