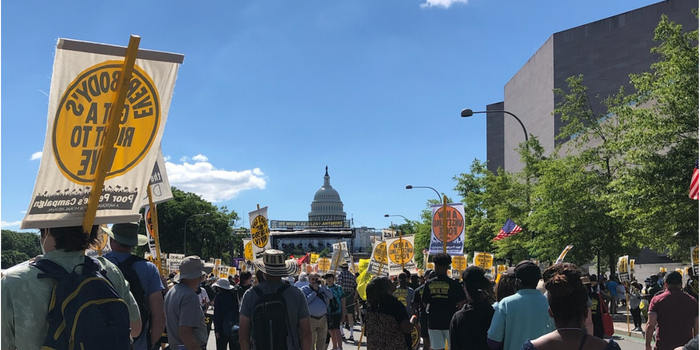 The National Farm Worker Ministry had a small delegation with many others scattered among the crowd of supporters from around the country on Saturday, June 18th in Washington, DC. There, in the shadow of the Capitol, the crowd gathered to stand in solidarity with people struggling with poverty – a lack of access to healthcare, low wages, affordable housing, barriers to citizenship, racism, and more. All through the day, people impacted by these things shared their own stories, shared what it meant to them, and shared the loss of family members. It was heartbreaking.
All-day, we kept listening to story after story, waiting to hear the story of a farm worker. Only once did we even hear the words "farm worker" when Guadalupe De la Cruz, from our own board representing the American Friends Service Committee, introduced herself as the child of farm workers. Otherwise, there was no mention of farm workers, no mention of the people who pick our fruits and vegetables, the people who feed us.
On the one hand, it was disappointing but on the other, not surprising. Farm workers are a subset. They are a subset of low-income wages in this country. Farm workers make some of the lowest wages of any group, around $20,000-$24,000 for a family. The federal poverty level is just under $20,000 for a family. A quarter of farm workers have a family income below the federal poverty level.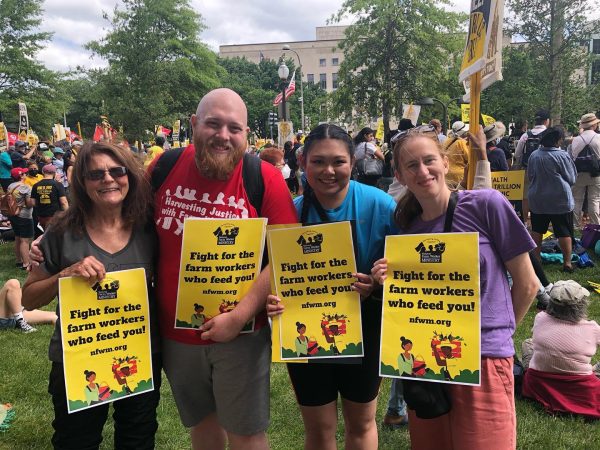 Farm workers are a subset of immigration. The Southern Poverty Law Center estimates that 6 out of 10 of our country's farm workers are undocumented. Contrary to popular belief, the US has some of the lowest food prices in the world. In the US, 5.5% of income is spent on food at home which is less than ½ of what is spent in Germany and France. Italy pays three times as much for food as US consumers do. The reason US food is cheaper is, in part, because those who pick it for us earn less than livable wages and are subject to exploitation – mostly because of their immigration status and threats of deportation.
Farm workers are a subset of US labor concerns. Less than 1% of US farm workers are part of a union. The National Labor Relations Act of 1935, which protects workers from retaliation for organizing specifically excludes farm workers and domestic workers who were, at the time the law was passed, predominantly Black. 70% of investigations of farms detect violations. Exploitative farm labor contractors are the worst violators, accounting for ¼ of all federal wage and hour violations in agriculture. One-half of those are in California and Florida. Keep in mind, though, that a lack of investigators and follow-through means that there is barely a 1.1% probability that any farm employer will be investigated in any given year.
Farm workers are a subset of the US food system. While their wages are low, wage theft is common and living conditions can be abysmal — companies who sell food and other items have shareholders and management that garner incredible profits.
It feels as though farm workers are the least of the least and, yet, NFWM knows that they are the ones who feed us. They have always been essential. They deserve the same rights as other workers. This is who we seek to stand in solidarity with. Our work is to NAME them, even when they are not named. Our work is to amplify their voices, the stories they share with us, in order to get them out to the public. Our work is to do all we can to facilitate their presence in places where they can offer their own solutions. Our work is to support their self-determination.
Our small delegation wore shirts, carried and shared signs that named farm workers at the Poor People's Campaign. Even if it feels like we represent a subset, we know we represent people – strong, persistent, resilient, hard-working people. Because farm workers are a subset of so many umbrella groups, they are often forgotten, overlooked, unnamed, and unseen. But they are human beings who deserve to be treated with dignity and respect, who deserve to be seen, who deserve a place at the table alongside everybody else. NFWM will continue to support the Poor People's Campaign and will continue to work to include farm workers. Their voices, their stories, their efforts for justice must be heard. When they are lifted up, so are we all. When they rise, so do we all.