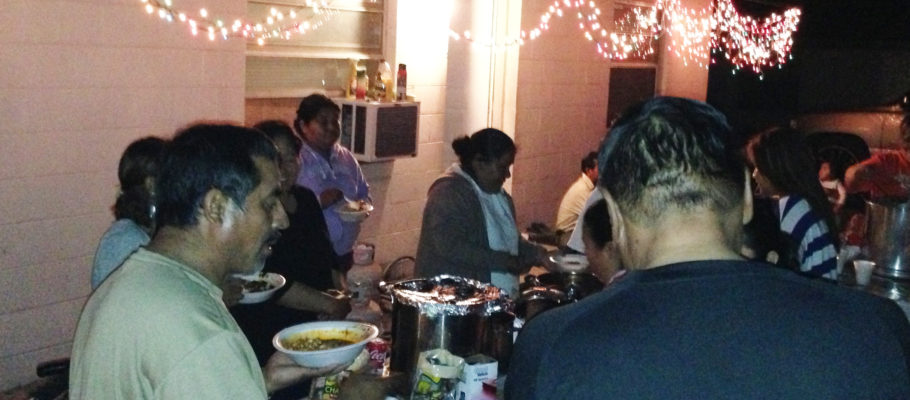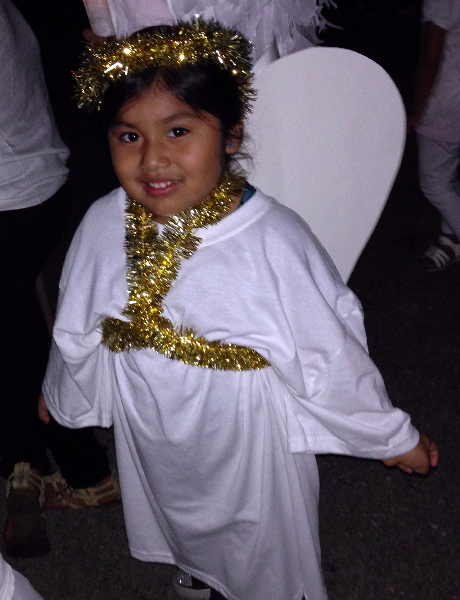 On Thursday December 20th, three Orlando YAYA members and two Tampa YAYAs traveled to Plant City, Florida, to join in the festivities at the Favorite Farms Las Posadas celebration. A Posada is a traditional Mexican-Catholic observance. Directly translating to "the lodgings," the Posadas symbolically enact the journey of Mary and Joseph as they searched for shelter in Bethlehem before the birth of Jesus.
About seventy people lined up in a procession through the Favorite Farms community, led by a statue of Our Lady of Guadalupe. Children dressed up as angels, and one child played the role of Shepherd, leading the others to shelter.
Prayers were read in Spanish at intermittent stop; two YAYAs were given the honor of reading these prayers. The group was serenaded by four singers and an accompanying guitarist. The procession stopped at four different houses, symbolically asking for permission to enter at each house. It was not until the last house that permission was granted by those who represent the "hosts" of Mary and Joseph. A song was then sung, the first verse by those outside, asking permission to enter, the second verse by those inside, granting permission. This marked the end of the ceremonial procession, and then the true celebration began.
Guests were served a meal of pozole, a soup of hominy and pork, as well as tamales and a hot, sweet juice made from sugar cane. The children enjoyed busting open a piñata, which was strung over a beautiful oak tree. After a delicious dinner, YAYA members helped the community to clean up, and then it was time to go home after a lovely evening.
This was not the first Posada celebration I had attended, however it was the first time I have participated in the shelter-seeking procession. As someone who is not of the Catholic faith, I benefited from sharing in a beautiful tradition that is not my own. This event provided an opportunity to build relationships with a community I was new to, and to learn from new experiences. I am thankful to have been so welcomed by the Favorite Farms community, and can't wait until my next opportunity to return!
Emily Helm
Orlando YAYA
Photos courtesy of Emily Helm