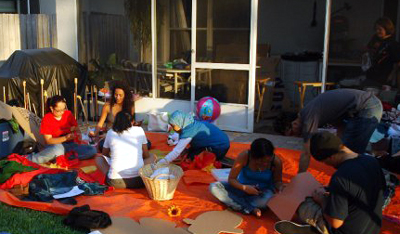 On Thursday April 22nd at 6pm, Orlando YAYA members gathered at Jamie Donmoyer's house (a local puppeteer) to make parade puppets.
Jamie generously had materials ready for us to create 6 puppets that we had previously designed with the careful guidance of Orlando YAYA member and also puppeteer, Nadia Garzon!
While at first we were amazed at how much stuff was available for us to play around with, we were really amazed at the idea that we might have working puppets 3 hours later.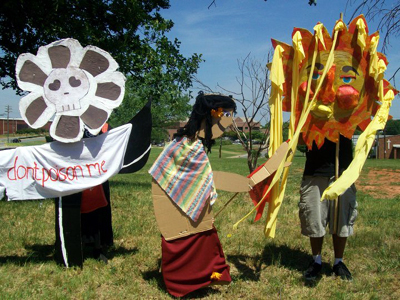 Sarah and myself got working right away with our skull flower design – currently being used in one of the YAYA T-shirts (which you can purchase from us for the low, looow price of $13!). We glued white tissue paper to get a nice even solid shade of white but before we knew it the 3 hours had passed, meaning that what they say is true, "time flies when you are having fun!" So we had to settle for unfinished puppets that we can't wait to get back to!
-Juan B!
Orlando YAYA
P.S. oh yeah, the other puppets were ok, I guess 🙂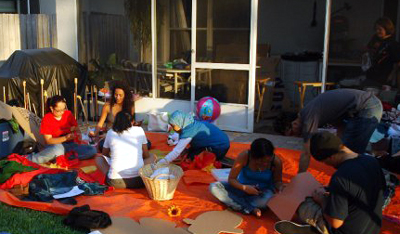 On May 1st, 2010, a few YAYA members got together at Jamie's house once again to continue our efforts at finishing our puppets. We arrived at 10:00am and finished around 1:30pm. We were able to finish 3 puppets! You will be able to see them in action on the next rally that we go to! We will definitely need to come back and finish up the rest of them which just need some finishing touches.
I'm personally excited to get to my nearest rally ASAP since one of the puppets that were finished was the one that my group designed! It's the "don't poison me" flower from one of our t-shirt designs!
-Juan Barredo
Orlando YAYA
(Photos courtesy of Juan Barredo)