On November 1st, the Orlando YAYA Chapter participated in a panel discussion at the University of Central Florida (UCF) about the environmental injustices connected with the Apopka farmlands and the The Lake Apopka Memorial Quilt.
The memorial quilt is a community project through the Farm worker Association of Florida that remembers the lives of the many African-Americans in the Apopka farm worker community who have lost their lives. While it is difficult to attribute deaths to pesticides, many believe the years working in pesticides "on the muck" on the shore of Lake Apopka caused the illnesses that took these community members' lives.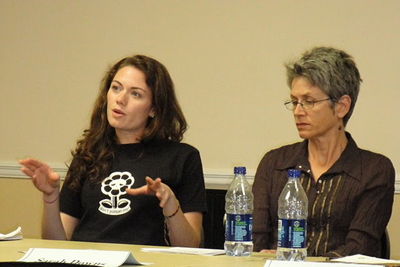 Linda Lee, a fourth generation Apopka farm worker and community leader, visited UCF as part of a panel discussion to speak about her experience as master seamstress on the quilt and as a farm worker
Other panelists included Jeannie Economos with the Farm worker Association; Sarah Downs, who worked on the quilt as an AmeriCorps volunteer; Anabelle Conroy, a professor at UCF who has coordinated events with the Farm worker Association; and our own Bert Perry with the National Farm Worker Ministry. I spoke for Orlando YAYA on the panel and shared ways that students could get involved supporting farm workers.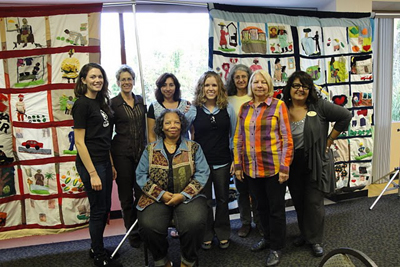 We were very grateful for the opportunity to connect students to our work, and for the honor of sitting on a panel with such talented and dedicated community leaders. We would like to thank the Farm worker Association of Florida, the Women's Studies Department at UCF, and the Office of Diversity Initiatives at UCF for their work organizing this wonderful event and bringing awareness to UCF about the tragedies Apopka farm workers have suffered.
Dominique Aulisio
Orlando YAYA
Pictures: Farm Worker Association's Lake Apopka Memorial Quilt Web site.