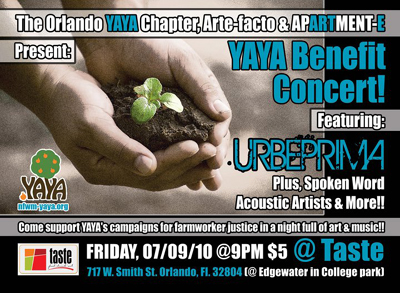 On June 5th, 2010, Orlando YAYA organized an outreach event at Taste Restaurant. Using music and poetry they were able to educate the community about farm worker issues and campaigns as well as how to become active in the farm worker movement.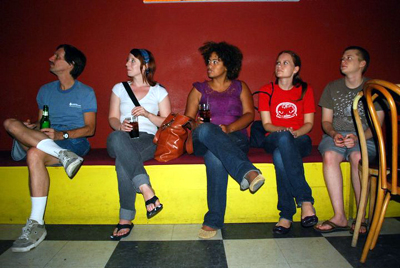 As we all know Taste Restaurant is a popular lounging spot drawing in all types of people with their collaboration of live music, art, and food. Orlando YAYA and the Rock en Espanol band Urbe Prima worked together to set up an outreach concert bringing together spoken word, and music at this venue.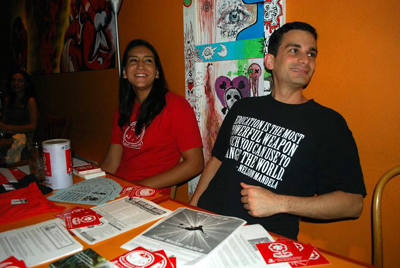 The purpose of this event was to enjoy a night of entertainment while raising awareness in the community on farm worker issues. Working together to host a live concert for the cause helped bring the group together. We took leadership positions including some of our new members, who worked very hard to make this a successful event.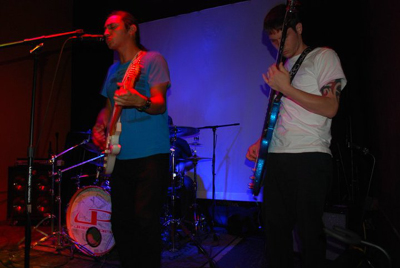 The turn out was great and the immense diversity of people who attended the event allowed us to engage people from different areas of the community.
Having a table providing information on some of the issues we work on helped to clarify the potential members' ideas on the movement and flesh out the topics they were less informed on.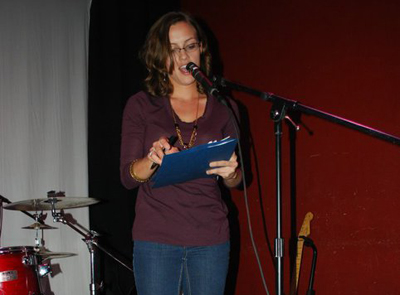 This being my first outreach event, I personally enjoyed meeting new people and sharing interests to unify and build the strength of the farm worker movement. This event was very successful as well as a pleasure to take part in. PALANTE!
We would like to thank:
– Urbe Prima, for their continued support and for performing during this show
– Taste Restaurant, for allowing us to use their space for this event.
–Last Step Down: for performing their amazing music during the show
– Sydni Gonzalez and Eden Wetherell for performing spoken word during the event.
-All of the people who attended the event and who helped to plan the event!
Sindy Bonilla
Orlando YAYA
(Photos courtesy of Juan Barredo)