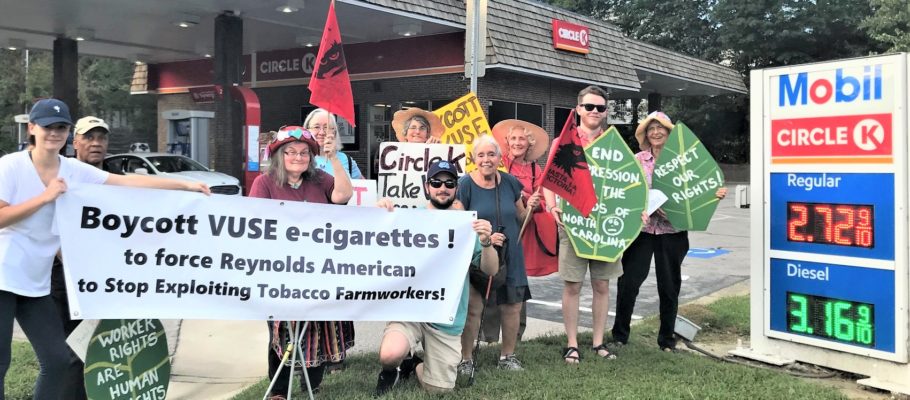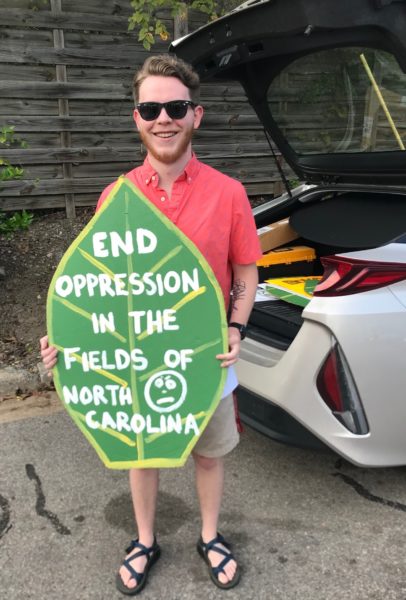 We at NFWM are pleased to welcome Eric Turner, our Duke Divinity School academic year ministerial intern. Eric has already been out on the picket line supporting the Farm Labor Organizing Committee's boycott of Reynolds American VUSE e-cigarette. Eric is pictured above with the Chapel Hill picketers from Church Women United NC, Women's International League for Peace and Freedom, NAACP – Chapel Hill/Carrboro Chapter and the Triangle Friends of Farmworkers (TFF). Eric will be helping TFF with their social media needs.
Because of his strong interest in creating church and community based solutions to the needs for nutritional assistance for low-income families, Eric will focus his learning during this placement on basic aspects of non-profit management. It may not sound exciting but it is after all how a good deal of good work is accomplished in the U.S. And we are pleased to a part of helping him grow toward his goals.
Now let's have Eric speak for himself……
Hi, my name's Eric Turner! I grew up in a small town on the coast of the Florida Panhandle. I lived in Montgomery, Alabama when I attended school at Huntingdon College for my Theology and Biblical Studies degree. Now I live in Durham, NC where I attend Duke Divinity School with the hopes of attaining my Masters of Divinity Degree!
I have been a part of the United Methodist Church since I was baptized into it at the age of one, and I am now a certified candidate for ordination on the path to becoming a Deacon. While I've known from a young age that ministry was the right path for me, the specifics of that calling weren't clear until recently when I began to develop a strong passion for Creation Care and Green Theology as an integral part of faithful ministry. Now I hope to move back to Montgomery, Alabama to start a nutritional assistance program for low-income families through responsible, local farming. My love of nature and of people, and my commitment to the faith makes the idea of feeding people through the means of restorative agriculture only seem natural.
I am deeply grateful to the Field Education department at Duke Divinity for the opportunity to serve with the National Farm Worker Ministry and to be able to learn to do ministry in the nonprofit sector in a responsible way! I've only spent a few hours so far with NFWM and I've already learned so much; mainly about the plight of the very people that put food on our tables. I am so excited to be able to learn and serve alongside these wonderful people at NFWM, and to hopefully aid in the empowerment of farm workers to fight for their rights and needs. Grace and peace.