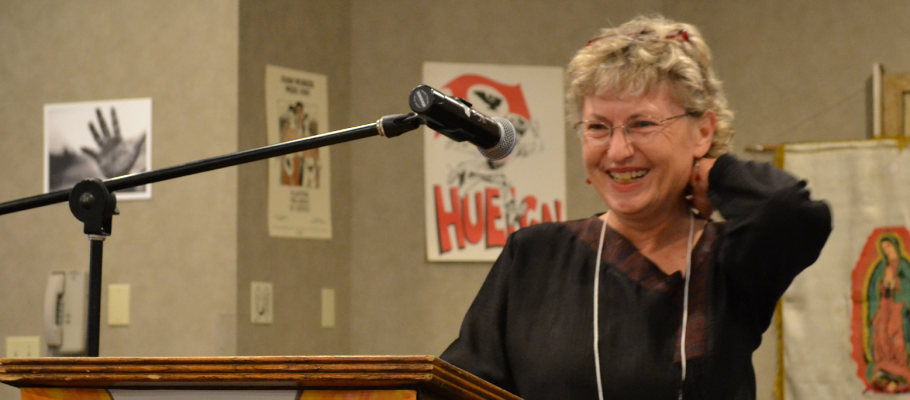 For 17 years Susan Alan has been part of the life of the National Farm Worker Ministry. She has at times been and done a little bit of everything. If you called the office, you were most likely to hear her voice first. If you e-mailed the organization, you most likely heard back from her. If you gave money, you most likely received a thank you she wrote. If you attended a board meeting or other major event, you most likely were met first by her. If you read the e-news or newsletter, she has been the primary writer. If you needed resources, she created many of them and provided much of the content on our website.
In recent years, Susan was the key staff person for the Boycott of Sakuma and Driscoll's berries with Familias Unidas that was settled in 2016, in large part due to her leadership in NFWM's impact. She has also been the primary staff person in relation to FLOC and their tobacco campaign and has been an integral part of supporting the Triangle Friends of Farmworkers in NC. And, since the office moved to North Carolina, Susan shaped the lives of our interns as their mentor/coordinator.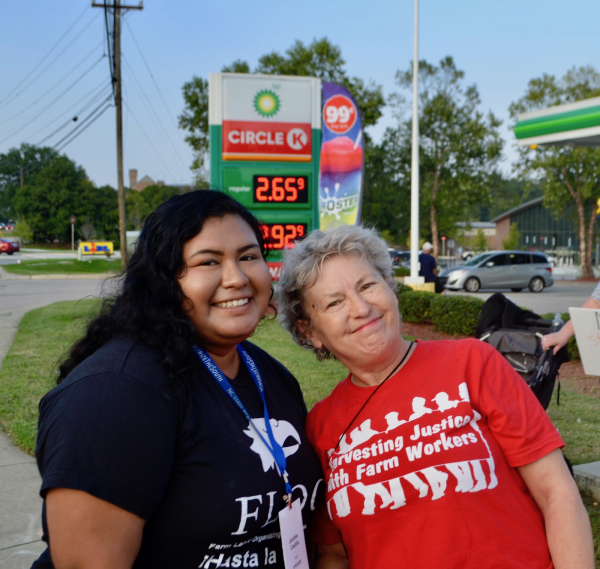 Susan with FLOC staff 2018
Susan has been embedded in the work of the Ministry for such a long time that it is hard to imagine this work without her but at this time has determined that she will move on and explore new opportunities to help make a difference in our world. We wish her well in her next endeavor and will miss her presence at the ministry.
Susan with NFWM staff 2005
Susan with her notebook of logistics
Susan with former staff Standing in the Gap 2013
Susan with Chris Burner, Duke intern summer 2017
Susan at 2015 NFWM Board meeting in Bellingham, WA where NFWM endorsed the Sakuma/Driscoll's boycott
Susan at 2015 NFWM Board meeting in Bellingham, WA where NFWM endorsed the Sakuma/Driscoll's boycott
Susan at the Reynolds Shareholder meeting march with Baldemar Velazquez
Susan with Suzanne Darweesh at the Premier Berries protest 2019
Susan protesting at a Circle K