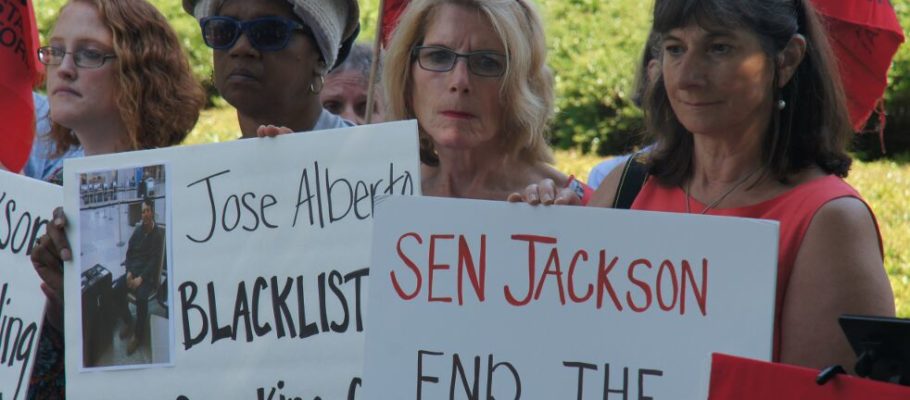 "We began to notice that the grower and supervisor would steal our wages by clocking us out for anything they could, like changing fields, waiting for equipment to come, or water breaks. Little by little, this added up and by the end of the season he had stolen thousands of dollars from our wages," said Valentin Alvarado Hernandez in a statement read at the press conference on his behalf.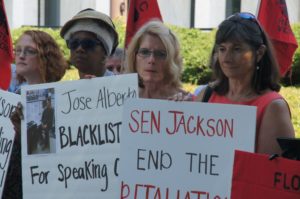 On Thursday, May 26th, dozens of people joined the Farm Labor Organizing Committee (FLOC) at the North Carolina General Assembly building in Raleigh to deliver a petition with nearly 10,000 signatures to the office of NC State Senator Brent Jackson. Supporters from NFWM, Triangle Friends of Farmworkers, NC AFL-CIO and others were there to call on Sen. Jackson, a grower from Autryville, NC, to reinstate the seven farm workers Jackson Farming illegally blacklisted for speaking out against labor abuses and to pay them the wages they are owed.
These seven farm workers came forward with complaints of wage theft and unjust firing on Sen. Jackson's farm. All seven have documented illegal wage practices and one worker was fired after he was unable to pay thousands of dollars for a piece of equipment broken during a workplace accident. After the accident, Mr. Jackson's son and the farm manager, Rodney, verbally assaulted the worker, threatened him with arrest and fired and evicted him from the farm.
At the press conference in front of the General Assembly building, FLOC Organizer Raul Jimenez read from a statement of one of the workers, Valentin Alvarado Hernandez. Julie Taylor, NFWM Executive Director, spoke about the strong commitment from faith communities to support justice for farm workers and to stand with the Jackson Farming workers. Justin Flores, FLOC Vice President, noted that this case is evidence of a much larger problem in agriculture, where farm workers who speak out have little protection against retaliation. "This example shows how farm workers are very aware that if they speak up about violations, there are often very real consequences, including blacklisting," said Flores. "However, growers aren't the only responsible party. Tobacco giants such as Reynolds American, Philip Morris International, and Alliance One continue to make huge profits, while refusing to sign an agreement with FLOC that would guarantee labor rights and the right to complain without fear of retaliation."
These seven farm workers faced a difficult choice: put up with abusive working conditions, or speak up and lose their job. Sadly, the seven workers who bravely came forward are now facing retaliation for that choice. While two have found work on other farms, five of the workers and their families are now facing serious hardships in Mexico since they were not rehired on Mr. Jackson's farm this season.
Thank you to all of you who signed the petition on behalf of the workers. Please return to NFWM and FLOC's websites and facebook for any further opportunities to support these workers.