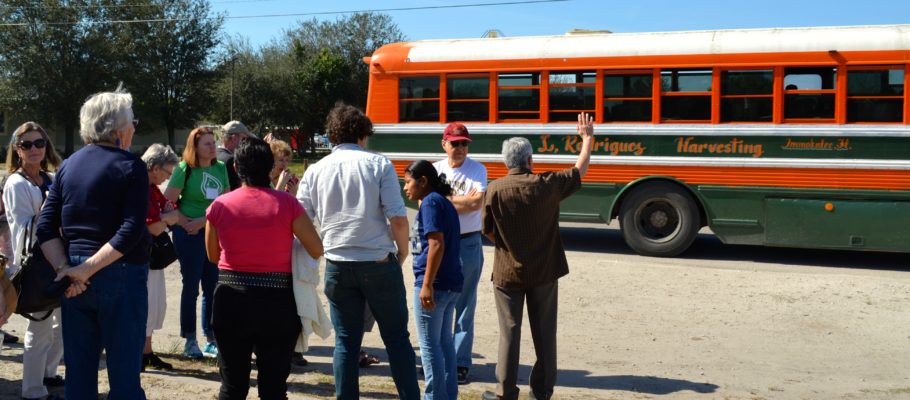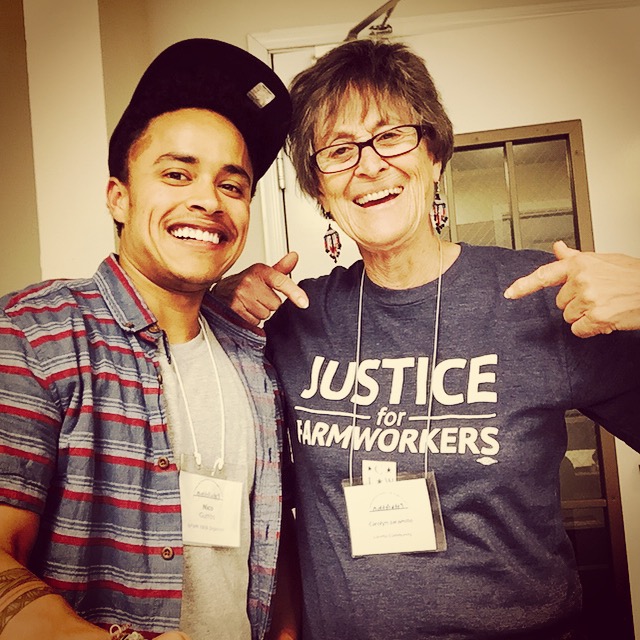 NFWM Staff Nico Gumbs and Board Member Carolyn Jaramillo of the Sisters of Loretto supporting farm worker justice with a smile!
The National Farm Worker Ministry board held its winter meeting on January 30 & 31 in Immokalee, Florida. At the meeting, NFWM's board elected a new executive committee including a new board chair, Sylvia Campbell who represents the Alliance of Baptists. Many thanks to the outgoing Executive Committee and Board President, Felix Garza. Thanks for all of your hard work!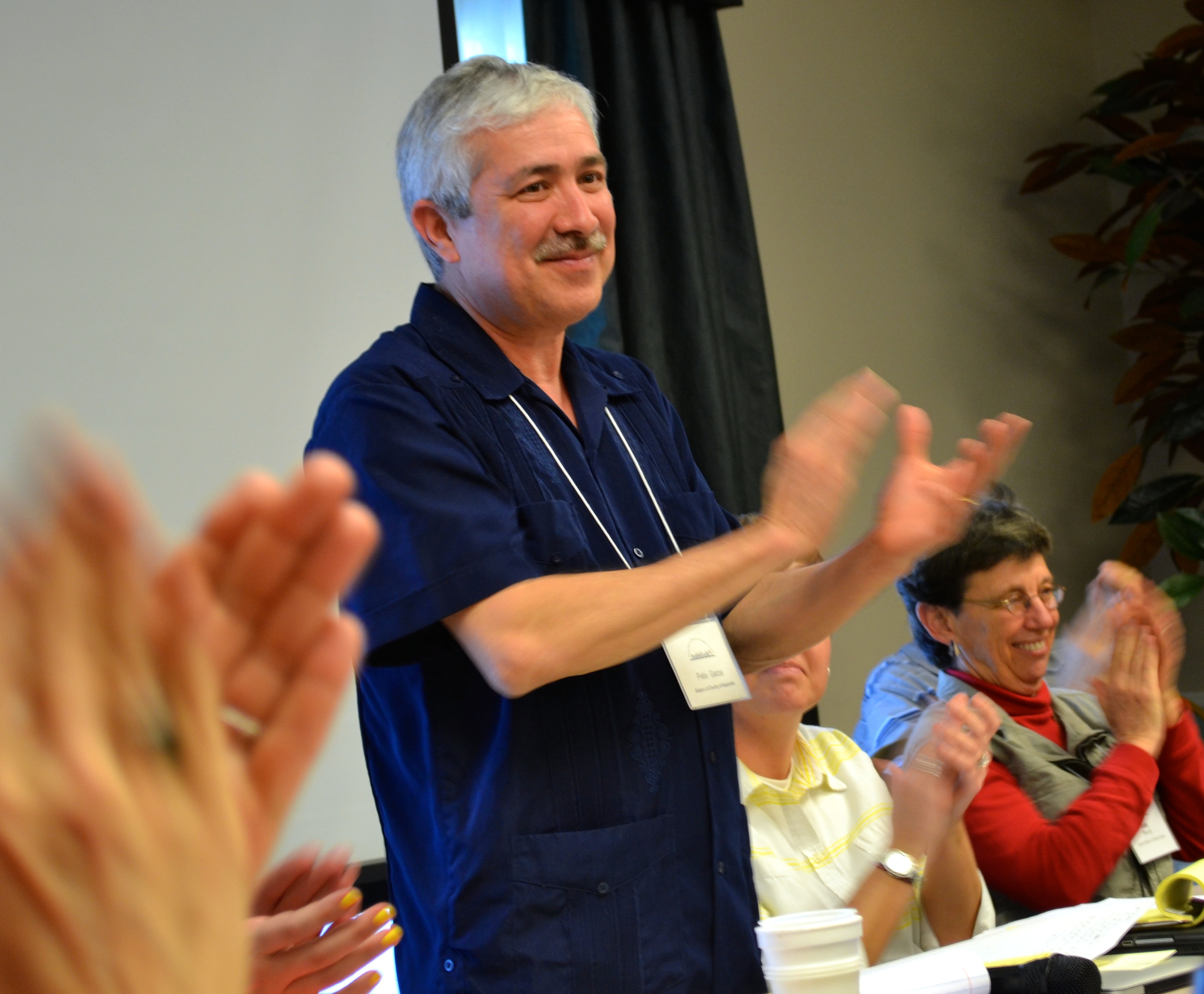 Past NFWM Board President, Felix Garza.
NFWM's board generally meets where farm workers are organizing in order to learn about current campaigns and give solidarity and support to the farm workers. This year, NFWM spent time with the Coalition of Immokalee Workers (CIW) at their offices in Immokalee and met with a grower who participates in the Fair Food program. We also heard about the upcoming parade and concert for fair food on March 21
The following excerpt was written about the CIW by Suzanne Darweesh, Co-chair, Orange County Interfaith Committee to Aid Farm Workers:
"While being involved with the Coalition of Immokalee Workers for many years, I had never visited Immokalee. Many of you remember the beginnings of the movement because Taco Bell, part of Yum Brands, the largest fast food conglomerate in the world, with headquarters in Irvine, CA, was the site of several years' struggle to persuade Taco Bell to sign a contract with the CIW to pay a penny a pound more for tomatoes.
In effect, this would double farm workers' wages. Even more important was a Code of Conduct which would guarantee not only the increase in wages but would ensure better working conditions in the field, clean water, portable bathroom facilities, no verbal or physical abuse, and a procedure mechanism for firing people guilty of sexual misconduct. The rate of sexual assault in the fields is almost four times the average rate of assaults upon American women in general because of the vulnerability of women farm workers to deportation, loss of job, availability of hidden locations, etc. Finally, the agreement includes an enforcement mechanism for the code of conduct carried out by members of the Fair Foods Council."
Kudos to CIW for all of their hard work!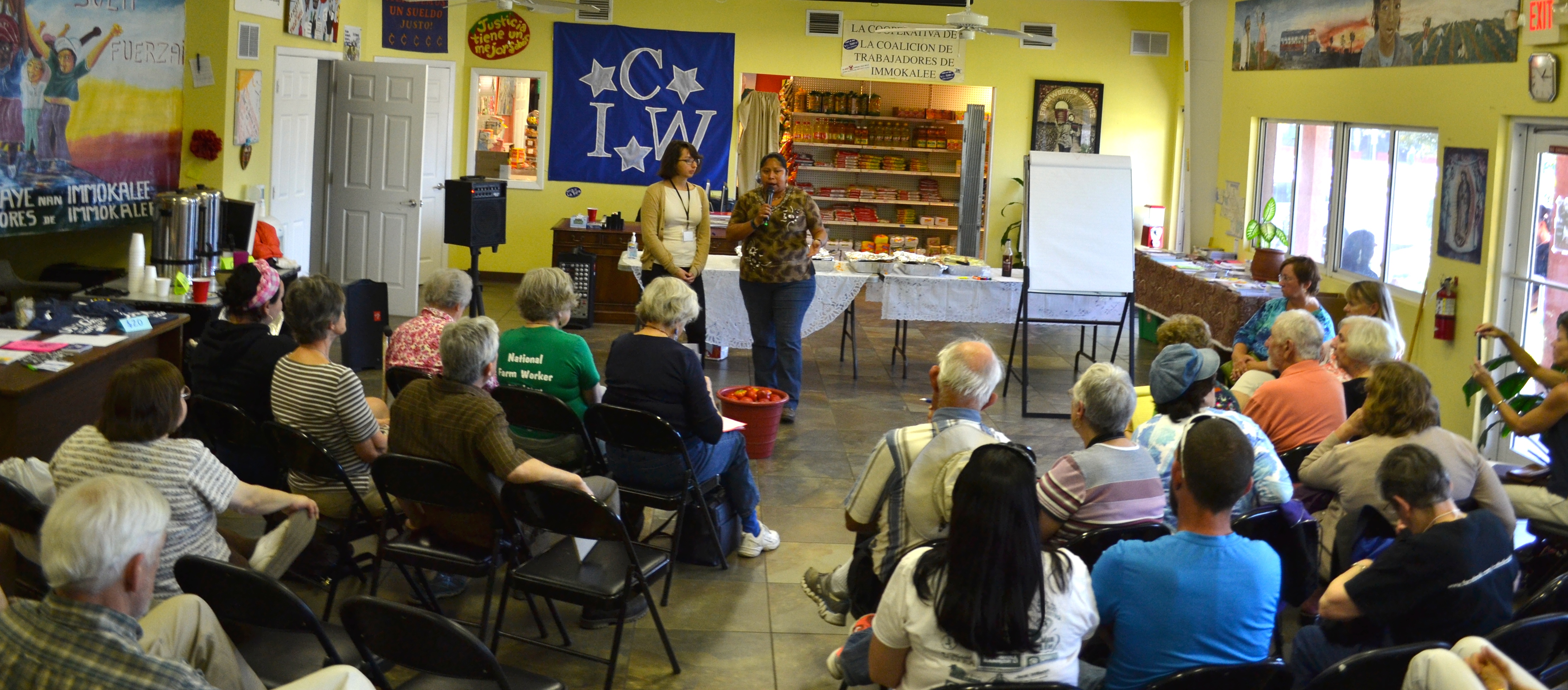 NFWM Board at CIW Office hearing about the Fair Food Campaign.
Photos of the visit with CIW, one of the Fair Food growers' staff and the Board meeting are posted online.
Check 'em out here.