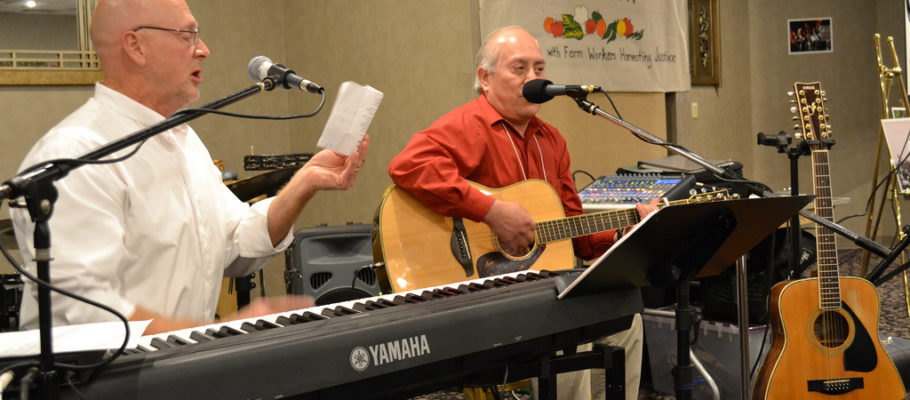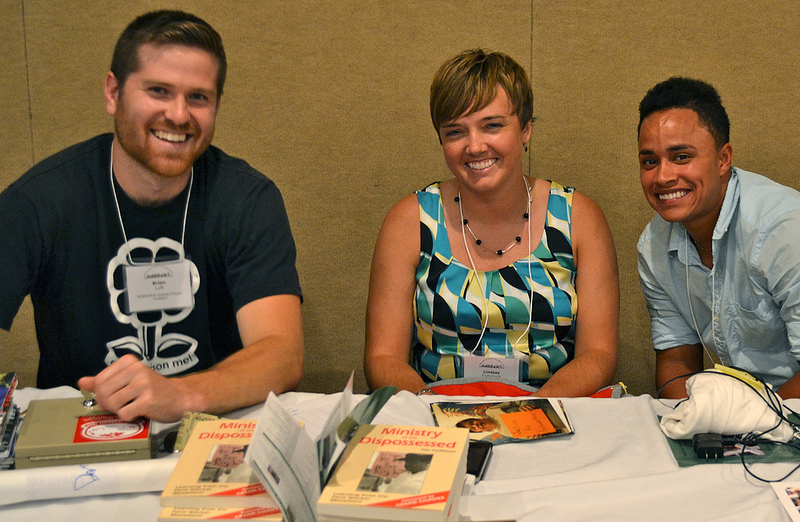 From August 23rd through 25th, I was in Belleville, Illinois for the National Farm Worker Ministry board meeting. The event took place at the National Shrine of Our Lady of the Snows.
We started Saturday bright and early for a long day. We ate breakfast at the hotel and were all ready to start introductions and the opening prayer right on time at 9 a.m. After a review of the agenda and approval of the minutes, we moved on to staff and campaign reports. This was an opportunity for staff and board members to talk about what actions they had taken since the last board meeting in January, and what updates had happened in the campaigns they were working on. This was also a chance for Orlando YAYA to report back on what we were doing for the farm worker movement. For a small presentation, I covered our relationship with the Farm Labor Organizing Committee, specifically our latest immersion trip to North Carolina where we met with FLOC for the annual R.J. Reynolds board meeting. This was a great opportunity to show the board the important work that YAYA is doing, and how it fits into our solidarity model.
After the staff and campaign report, came the financial and executive committee reports, followed by the introduction of the new Executive Director, Lindsay Comstock. Lindsay was honored by her new position with the National Farm Worker Ministry, and humbled by the 15 years of dedicated work from her predecessor, Virginia Nesmith.
After a light lunch we reconvened for updates and discussions with farm worker leaders Baldemar Velasquez, President of the Farm Labor Organizing Committee, Ramon Ramirez from PECUN (Oregon's Farm Worker Union), and Eric Nicholson, National Vice President of the United Farm Workers. These leaders gave great presentations about the status of their campaigns, and us all about the work we are doing for the farm worker movement.
Virginia Nesmith had some closing remarks before we adjourned for a dinner and celebration of her 15 years with the National Farm Worker Ministry. I was already on my way to help with preparations for said dinner. The celebration was amazing. There were all sorts of shirts and merchandize from the history of the farm worker movement, as well as a quilt made of many of those shirts that was up for a raffle. There were many beautiful photos and cards that were all being sold as part of a fundraiser. Nico and I dutifully handled all the transactions for that night. The food was delicious and all of the memories and testimoniesshared about Virginia were moving. I was incredibly humbled to be in the presence of so many who individuals who have given so much of their lives for the farm worker movement. It was a night I will always remember. The new Executive Director, Lindsay, even won the quilt, which seemed almost planned.
The next morning Nico and I were on transport duty shuttling folks to the airport for their various flights. We shared a lunch in St. Louis with several board members before Nico and I also had to leave for our flights back home. Overall this was an exciting and busy weekend that I was glad to be a part of. It was a great opportunity for YAYA to showcase the great work we are doing in solidarity with farm workers, and it was a time to reflect of the history and progress that has been made in the movement.
Brian Luft
Orlando YAYA
For more pictures of this event click here