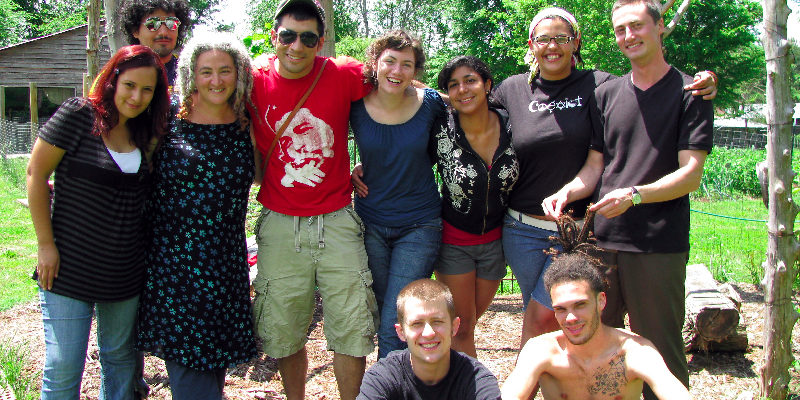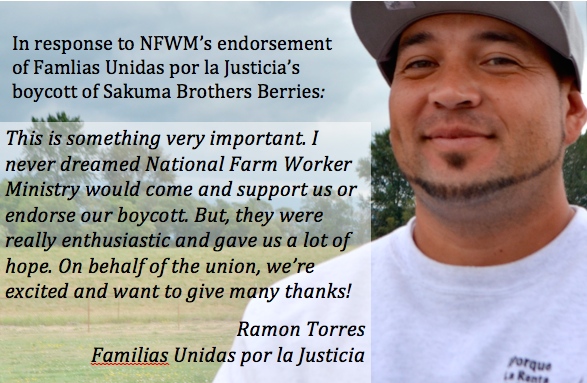 The Board of Directors of the National Farm Worker Ministry held their summer meeting at Western Washington University in Bellingham Washington July 10-11th. Bellingham was chosen so that the board and staff could learn first-hand from the farm workers of Familias Unidas por la Justicia (FUJ) about their labor dispute with Sakuma Bros Farm in Washington and the boycott they have called of Sakuma berries and the company's major purchasers, Driscoll's and Häagen-Dazs strawberry ice cream.
Familias Unidas is an independent farm worker union with about 400 members, most of whom are indigenous peoples originally from southern Mexico. Many of them have been planting and picking berries for Sakuma Bros. for years. And for years these workers have suffered injustices such as wage theft, sub-standard housing, and racial harassment.
Then on July 11, 2013, in the face of one more injustice, some brave workers stood up for what is right and walked out of the fields. After two years of labor disputes and broken agreements by the company, FUJ members have not backed down. Having met with workers and heard their stories, we at NFWM are inspired by their courage and their resolve.
On July 11, 2015, the Board of NFWM passed a resolution endorsing the boycott of Sakuma Bros. berries. NFWM has committed to the farm workers at Sakuma that we will support them until Sakuma Bros. recognizes FUJ as the representatives of the farm workers who work for them and negotiates a fair and binding contract.
————————————————————
On the morning of the 10th, Dr. Sam Trickey, long-time NFWM Board member and current Treasurer, represented NFWM at a press conference held in front of Sakuma's processing plant. As Sam said in his remarks,
"All too often there is a big buyer or distributor in the background pulling the strings and controlling the local grower. Here it is Driscoll's. And again, we in Farm Worker Ministry have seen this before. Almost 20 years ago in the Salinas valley of California, Driscoll's was central to the resistance against the union campaign to organize in strawberries…. National Farm Worker Ministry organized churches and faith communities in support of that campaign – and we can do it again in support of FUJ. What we've seen – and are blessed to have helped make happen – is that eventually the farm worker campaigns succeed."
The 10th was also our business meeting day; we had several important guests. We were delighted to be joined by Skype by NFWM's newly appointed Executive Director, Julie Taylor, who will begin work on September 8th.
We were also joined by Indira Trejo, the United Farm Workers' organizer in the northwest. Indira updated us on the UFW's campaign for dairy workers with Darigold, the fourth largest dairy co-op in the US and the largest exporter of dairy products outside the US. Indira shared some shocking facts, including that in Washington State in 2014 alone, 438 dairy workers were injured. There is a woeful lack of training for workers as well as wage, animal abuse and gender equity issues in the industry. Please sign the petition to Darigold from Nubia Guajardo, the wife of a dairy worker who died drowned in a manure pond in February.
And on the 10th, we were also joined by Steve Giordano and his wife Lynn Rosen. Steve is the son of the late Jeanne and Roy Giordano – farm worker supporters extraordinaire with the Orange County Interfaith Committee to Aid Farmworkers. We all enjoyed telling and hearing Jeanne and Roy stories.
At 7 pm that evening, seven Familias Unidas members, who had started picking in the berry fields at 5:30 am, graciously gave us their time and joined us in Bellingham. With them was President Ramon Torres. Most of the FUJ members speak the indigenous languages Mixteco and Triqui. They related their experiences of discrimination and harassment, wage theft, poor housing conditions, hostile work environments and retaliation from company management and supervisors. We listened and asked questions. When asked, "How can we help?" Ramon responded, "Educate people about our work and importance." We also heard from Rosalinda Guillen and Edgar Franks from Community to Community(C2C). C2C along with Students for Farmworker Justice, who were also with us, are providing important support to the union.
The NFWM Board meeting was held to coincide with the anniversary of the first strike of farm workers at Sakuma Bros. on July 11, 2013. So the next morning NFWM board and staff traveled south to Burlington, WA where we joined Sakuma berry pickers and labor, community and student supporters for the "March for a Contract." More than 250 people marched a mile and a half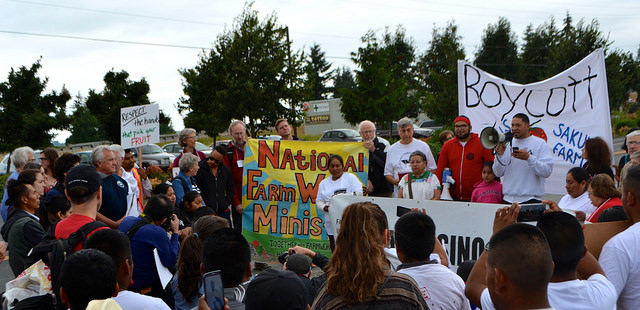 carrying posters and banners to Sakuma's processing plant, where we held a rally. Visit NFWM's flickr site for photos of the day and the Board meeting.
The board meeting ended that evening with a discussion of next steps in supporting Familias Unidas por la Justicia and the boycott of Sakuma berries. We will be sending an E-News and posting action resources on the website and facebook very soon, so check back!
PLEASE SUPPORT THE FARM WORKERS OF FAMILIAS UNIDAS POR LA JUSTICIA!
BOYCOTT SAKUMA! BOYCOTT DRISCOLL'S BERRIES!