National Farm Worker Ministry is a faith based organization committed to justice for and empowerment of farm workers. NFWM educates, equips and mobilizes member organizations and other faith communities, groups and individuals to support farm worker led efforts to improve their living and working conditions.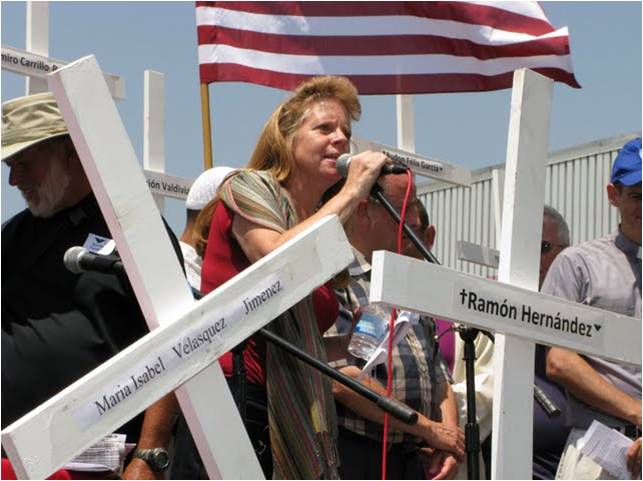 The National Farm Worker Ministry (NFWM) Board of Directors announces the departure this summer of our esteemed Executive Director Virginia Nesmith. For 15 years Virginia has been a relentless leader of NFWM, steering its staff, board and supporters through a whirlwind of victories, challenges and change in the pursuit of justice for and empowerment of farm workers.
Virginia led NFWM's support for numerous farm worker organizing campaigns, mobilizing national and international faith leaders, and establishing NFWM's Youth and Young Adult Network (YAYA) to develop a new generation of activists for the work. She has helped found and develop the Equitable Food Initiative, a groundbreaking initiative of farm worker groups, NGOs, growers and retailers who are working together to create a fairer and safer food supply.
We thank Virginia for her steadfast commitment to lead people of faith in support of farm worker led efforts to improve their living and working conditions. In a recent communication she said, "Farm workers captured my heart over 35 years ago and fortunately, never let it go. I feel incredibly blessed to have been able to work with all of you who embody a ¡Sí se Puede! attitude and with farm workers who have taught me so much about faith and hope."
Leadership transition can be both a challenging and exciting time for any organization. NFWM, the current staff, board of directors and Virginia are looking forward to all of the possibilities that come with change and will work together to insure that the transition is accomplished as smoothly and effectively as possible. To that end, a search committee and a transition team were appointed by the Board of Directors in January. Both teams have begun their work. The search committee is anticipating having a new Executive Director in place by the summer of 2013. Virginia and other staff will work closely with the transition team to prepare for the new director.
As always, NFWM remains committed to our mission. We know we can count on your continued support and engagement in our work for farm worker justice during this time of transition.
For questions about the search for a new director, please contact the chair, Sylvia Campbell or NFWM Associate Director, Susan Alan.
In Solidarity,
Felix Garza, NFWM Board President