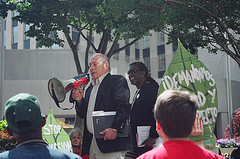 On May 7th, Philip Morris International (PMI) will hold its annual Shareholder's Meeting in New York City. Attending alongside AFL-CIO representatives and concerned shareholders will be Dr. Alvin Jackson, Pastor of Park Avenue Christian Church in New York City and Assistant Pastor for Outreach Rev. Luis-Alfredo Cartagena Zayas. These influential NY pastors, mobilized by Rev. Dr. Sharon Stanley-Rea, NFWM Board representative for the Christian Church, Disciples of Christ, will speak to the moral and ethical responsibility PMI holds to ensure that human rights abuses occurring in tobacco fields are addressed.
PMI is one of the major tobacco corporations pulled together to form a "multi-stakeholder initiative" following Reynolds' 2012 announcement that they would sit down with the Farm Labor Organizing Committee. This multi-stakeholder group is facilitated by the Keystone Group and is tasked with discussing the labor and human rights issues of tobacco farmworkers.
FLOC continues to advocate with the individual tobacco companies for a written agreement guaranteeing labor rights and incentives to growers to improve wages and conditions in their respective supply chains. FLOC has been putting pressure on PMI to:
1) implement self-declarations on Freedom of Association,
2) to notify growers in North Carolina, Kentucky and Tennessee of protocols and not retaliate or discriminate as guaranteed under the laws for being union members or engaging in union activities, and
3) to partner on an agreed upon process to recognize cards signed this coming summer by tobacco farm workers not covered by the current collective bargaining agreement.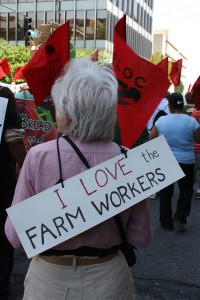 The PMI Shareholders' Meeting will be held in the Empire State Ballroom at the Grand Hyatt New York just one day before the Reynolds American Shareholder's Meeting in Winston-Salem, NC. FLOC, National Farm Worker Ministry, Triangle Friends of Farmworkers, YAYA and area supporters will be in attendance at the RAI Shareholder's Meeting on May 8th. A public demonstration is planned. Stay tuned to www.nfwm.org for more details.
NFWM thanks Dr. Jackson and Rev. Zayas for standing for and with farm workers in their struggle for better living and working conditions.
Rev. Lindsay C. Comstock
Executive Director