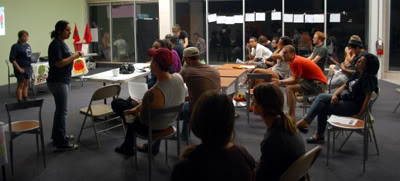 Friday night is traditionally known as date night but this Friday, March 28th, it is also the historic opening of Cesar Chavez. Movie times and locations have been released here, so now is the time to get your tickets and secure your seat for this monumental occasion!
Organize your viewing party now and get ready to take those group selfies at the theater this weekend! Participating in NFWM's Pack the Theater Selfie Challenge is not just an opportunity to win a NFWM Swag Bag, it is also a chance to spread the word about farm worker issues across the nation! Here is what you need to do:
1. Organize as many of your friends and family to view Cesar Chavez on opening night.
2. Email a group picture or "selfie" to Kelli Davis at NFWM by March 31st to prove the size of your group. Kelli can be reached at kdavis@nfwm.org.
3. Post your group selfies to Facebook and Twitter using #NFWMselfie and #cesarchavezmovie as hashtags for the event or email them to Kelli Davis at kdavis@nfwm.org and they will be posted for you.
The leader with the most people pictured attending the film on opening night will win the NFWM Swag Bag: a "Thank a Farm Worker" canvas shopping bag full of t-shirts, stickers and other great swag to show your farm worker support! All photos are due via email by March 31st!
You can help Cesar Chavez the movie live up to the real farm worker legend himself! ¡Si Se Puede!