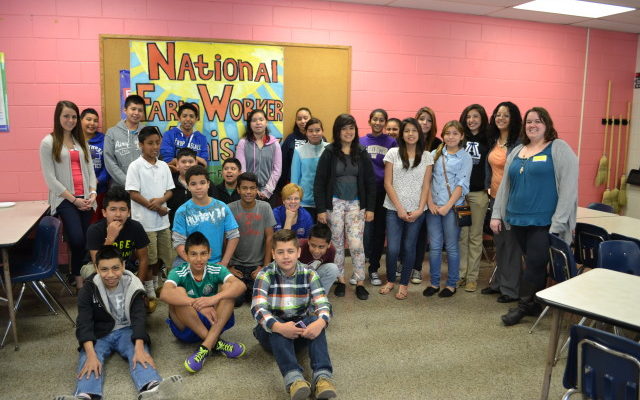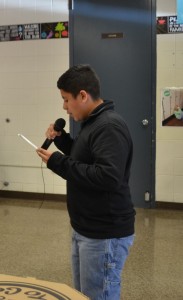 "I am writing you to say that even though I am a 7th grader I am still aware of the unfair treatment of human beings in the world."
On Friday, April 11, 2014 NFWM Executive Director Rev. Lindsay C Comstock and Communications and Development Director Kelli Sue Davis traveled to North Asheboro Middle School (NAMS) to present the school's English Language Learner classes with the NFWM Swag Bag, their prize for winning our Pack the Theater Selfie Challenge.
NFWM hosted the Pack the Theater Selfie Challenge over opening weekend of the movie, Cesar Chavez. Movies are often judged on their success in the theater opening weekend and since Cesar Chavez was the first Hollywood movie in history to depict the real struggles of farm workers, it was our mission to make it a monumental success!
NFWM received entries from across the country including selfies from Student Action with Farmworkers, Farmworker Justice, Oregon Farm Worker Ministry and the National Center for Farmworker Health. However, the 48 students and 5 teachers from Asheboro, NC organized the most people to see Cesar Chavez on opening weekend and took the prize winning selfie seen here!
The teachers and principal of NAMS wanted the students to witness the heroic actions of nonviolence that Cesar Chavez exemplified and be empowered by his successes in the face of so much opposition. They organized a first ever field trip for the ESL classes and the students and teachers traveled an hour and a half to see the historic movie after studying farm worker issues in their class. When NFWM staff asked the students if they enjoyed the movie, they replied with a unanimous, "yes!"
Along with the NFWM Swag Bag, the students received a pizza party but they were most excited about the poster United Farm Workers President Arturo Rodriguez personally signed for them! It will proudly be displayed in their school as an accomplishment of the ESL students, many of whom know the struggles of farm worker families first hand.
The students recently wrote letters to North Carolina Commissioner of Labor Cherie Berry advocating for better working conditions for farm workers in the state. On Friday, NFWM staff had the privilege to hear some of the letters, read by their authors.
One student wrote to Commissioner Berry, "Another reason I am concerned is that my family has [been] through this. It is sad what they did for us. [We lived] in a lonely cabin in between a lot of crops everywhere. If I was you I would visit the farm workers. They would be happy to know you do care about them."
Another student stated, "I want the farm workers to have better living conditions and I want you to help them. I also want you to help them have better pay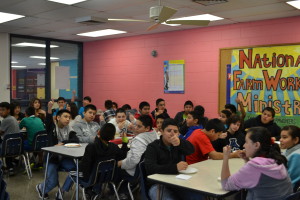 because they work so hard and they don't get enough money for themselves and their families. Farm workers want justice."
Bravery is the only word that can describe these students. They stood in front of their peers to read aloud their letters, and also were strong enough to hold a government official accountable for her words when many would assume they would not be heard. In solidarity with the North Asheboro Middle School students, who are now sure to be a new generation of farm worker advocates, NFWM has promised to contact Commissioner Cherie Berry and also request better working conditions for North Carolina farm workers. By standing together through the generations, justice for farm workers will be realized!
UPDATE: On April 29th, 2014 Commissioner Cherie Berry traveled to North Asheboro Middle School to address the ESL students' concerns for farm worker issues. Find out more information about her visit here!
Kelli Sue Davis Director of Communications and Development