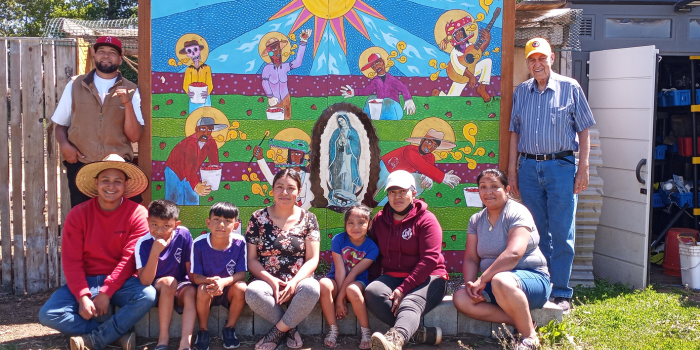 A report by Hector R. Rodriguez on June 3, 2023
On June 3rd, I met with Ramon Torres and three board members of Tierra y Libertad, the 65-acre cooperative run by Familias Unidas por la Justicia (FUJ). The co-op has grown considerably in the ten years since our Board marched with them to Sakuma Brothers, which led to their first contract. They are beginning to wean away from berries, which are still in production, and focus on livestock. They now have 200 chickens, 19 sheep, an equal number of goats, and three horses. They grow the feed for the animals. They also have two large greenhouses and many acres of vegetables, including Nopal, squash, corn, lettuce, cilantro, beets, green beans, carrots, onions, garlic, potatoes, and radishes.
Ramon told of the damage done to the co-op by storms and wildfires. They lost part of their stables, as well as about a dozen sheep. The 30-year-old transformer that services the co-op caused power outages in the greenhouses as well and the electric company has no obligation to repair it so Familias Unidas is raising money for this.
Recent victories include working in conjunction with UFW in getting the growers hit with a $3.4 million dollar fine for H2A program abuses, mainly because they were trying to hire H2A workers rather than local workers who either live there or return to this area every spring/summer. For more about this case, click here. Individual workers affected were made whole in amounts ranging from a few hundred dollars to over $20,000.
Ramon is an employee of C2C as well as being the president of FUJ. He and Rosalinda Guillen work on various projects and assist a variety of workers' organizations seeking to better their situation. Edgar Franks, their organizing director, together with Ramon, wrote the overtime bill which was passed by the state legislature three years ago. This victory was achieved in record time compared to similar bills elsewhere. By next year, every farm worker in Washington State will get overtime after 40 hours of work per week.
In later conversation with Rosalinda Guillen, director of Community to Community (C2C), we went over some of the gains that I had heard about from Ramon and his colleagues. One of those wins was with the tulip workers. This is a big industry in the Skagit Valley. FUJ and C2C essentially won something close to a union contract, according to Rosalinda. The workers went on strike and subsequently won an agreement. They held the company legally liable to provide the tools of the trade: boots, raincoats, gloves, etc. Importantly, they established a workers' committee to establish how work is assigned.
Rosalinda explains that C2C doesn't loudly proclaim all their wins because of the climate they are in. The growers pounce on any forward movement by FUJ to find ways to negate it, nullify it, and make any progress harder to achieve. These growers are less afraid of the government than they are of fellow growers who don't want to see any caving in to farm workers' demands.
After my visit with Rosalinda I was able to stay for a FUJ assembly in the same center. The action was led by Marciano Sanchez, organizing director for FUJ. Marciano is Mixteco from Oaxaca. The folks who attended were mostly Mixteco and the meeting was bilingual. For the first time, C2C and FUJ are fielding candidates for city council, one in Mt.Vernon and one in Bellingham. After their presentations and discussion, the members took a vote and endorsed their candidacies.
This coming January, C2C and FUJ will hold a tribunal before the state legislature. They will set up a panel of judges similar to the action we participated in at one of our board meetings a few years ago. They are planning to ask NFWM to be one of the judges.
It was a privilege to revisit our friends in Washington state, and I'm glad to be of help to our staff and to the Ministry.