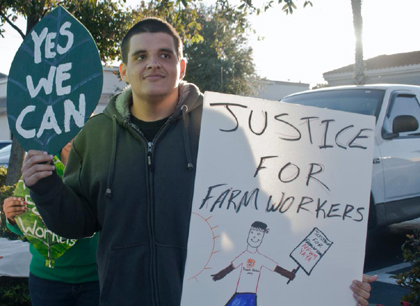 Friday, December 3, Orlando YAYA joined up with community allies from Jobs with Justice, LCLAA, Unite Here!, and Food Not Bombs to make Chase Bank very nervous over their relationship with R.J. Reynolds Tobacco company and to support our brothers and sisters from the Farm Labor Organizing Committee.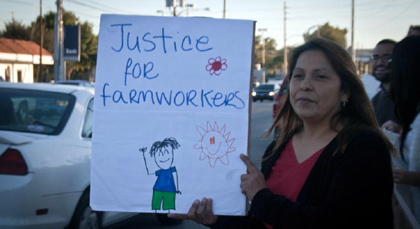 Before our rally, a delegation went into the Chase Branch at the corner of S. Orange Ave. and Michigan St., and asked to speak with a manager regarding the human rights abuses of farm workers in North Carolina by their customer RJ Reynolds. The managers were obviously expecting our visit. They were lined up by the door, and gruffly told us that they could not speak to us, and we needed to leave. They wouldn't even accept a letter from us!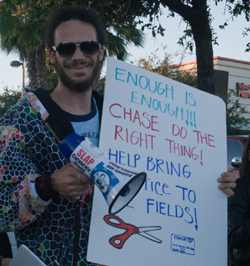 We told them that before we left, we needed to deliver a message from our members who bank with Chase: "I like my bank and my interest rate, but there's something Chase is hiding from me…" Five of us broke into song and dance inside the branch, informing both the managers and the customers of their responsibility in R.J.'s scandal regarding the working conditions of tobacco harvesters.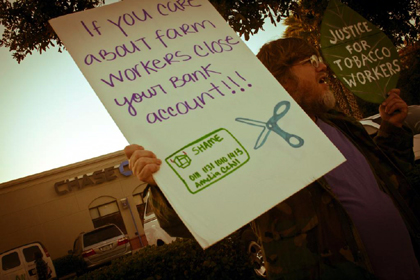 The manager called the police, but we made it through our entire adaptation of Beyonce's hit "All The Single Ladies" before the police arrived (see lyrics below!). We left a letter from our group and the materials that we would be using to inform the public on the counter before leaving the branch.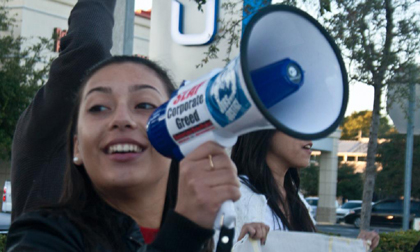 Then the fun continued outside as we rallied in front of the branch, encouraging customers to close their bank accounts under Chase stood up for worker rights. We sang, chanted, shouted, and held big signs that with messages including, "If you want to stop injustice, Close your bank accounts!" and "Justice for Farm workers" We also passed out stacks of fliers to the public informing them about Chase's involvement in the dirty business of denying tobacco harvesters their rights, and included our song lyrics as well.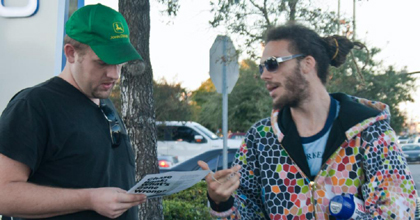 Nearly everyone we talked to was receptive and encouraging–which isn't too surprising since many of them had their own beef with Chase's greedy policies. We even talked to one gentleman who was already considering closing his account, and said he would include their involvement with R.J. Reynolds as one of the reasons he was dissatisfied when he did.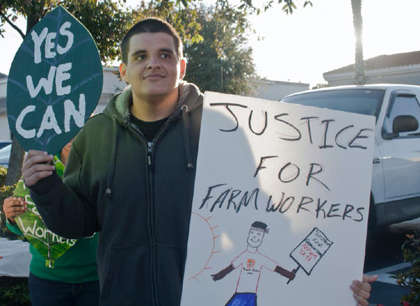 We would like to thank our allies from the community and from labor who joined us…you made our action awesome!
All of us in Orlando YAYA were thrilled to be able to participate in FLOC's campaign to win justice for tobacco farm workers in such a fun way. We hope that folks across the country have a blast participating in the day of action next Friday…we know from their hostile reaction that JP Morgan Chase and RJ Reynolds are receiving our message loud and clear. Hasta la victoria!!
-Dominique Auliso
Orlando YAYA
(Photos courtesy of Anna Montoya)
---
Working People (Close your Bank Accounts)
by Katie Gillett
to the tune of Beyonce's "Single Ladies (Put a Ring On It)"
All the college students,
all the working people,
all the college students
Now put your hands up (up)
Up in Orange Ave.,
bout to get paid (paid)
Cashing' my check at Chase
I like my bank (bank)
and my interest rate (rate)
but there's something Chase is hiding from me
With the money I'm spendin'
they be lendin'
Millions to tobacco companies
I'm in college and broke (broke)
Don't even smoke (smoke)
but I still gotta pay attention
Cause RJ Reynolds
they can't handle
payin' farm workers a pension
———————–
Chorus:
If you wanna stop injustice close your bank account
If you care about farm workers close your bank account
To-bacc-o-oh-oh-oh-oh-oh-oh-oh-oh-oh
To-bacc-o-oh-oh-oh-oh-oh-oh-oh-oh-oh
———————–
Up in North Caroline (line),
corporate crime (crime)
Farm workers be workin' overtime
Out in the fields (fields),
tryin'a get their yields (yields)
Not a decent wage to get by
Farm workers get sick (sick)
from tobacco they pick (pick)
Breathin' toxins from the pesticides
If you wanna stop injustice close your bank account
If you care about farm workers close your bank account
To-bacc-o-oh-oh-oh-oh-oh-oh-oh-oh-oh
To-bacc-o-oh-oh-oh-oh-oh-oh-oh-oh-oh