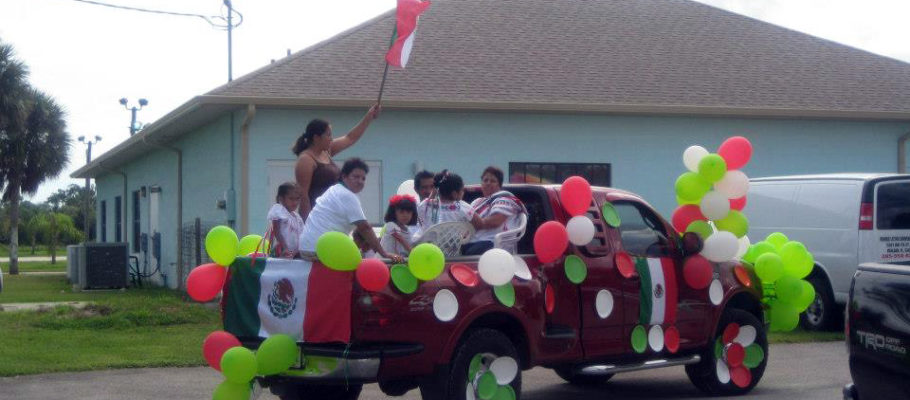 Just as the sun was rising on Saturday, the 15th of September, roughly 18 YAYAs met at the Orlando NFWM office to carpool for another trip southwest to the Farm Worker Association of Florida office in Fellsmere.
This also happened to be Fellsmere's annual Mexican Independence Day celebration. When we arrived, Yolanda (the organizer of FWAF in Fellsmere) and her family invited us to partake in a community-wide Mexican Independence Day parade and accompany them on their float. Following a caravan of floats and horses decorated in steamers, banners, flags, and balloons, we weaved through the streets of Fellsmere and tossed out beads and candy to children and spectators amidst chants of "¡viva Mexico!" and verses from "Cielito lindo".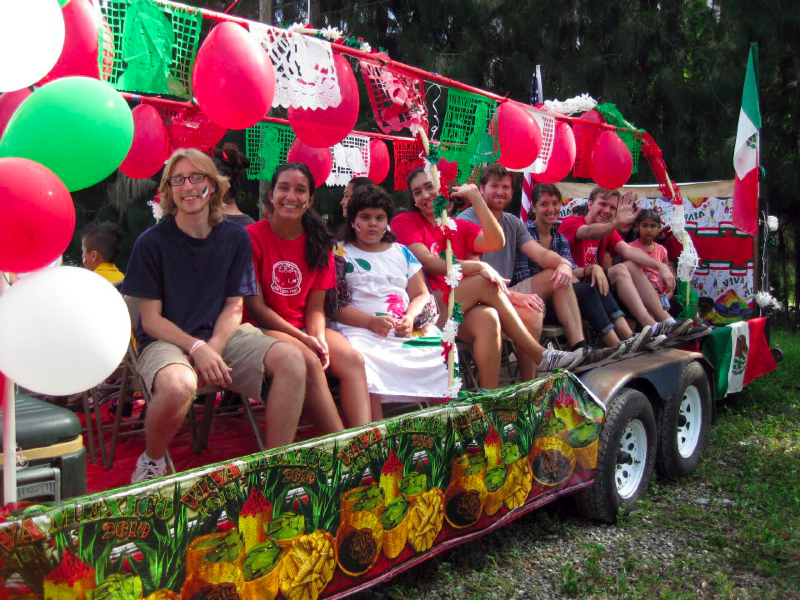 Upon arriving back at the FWAF office, we indulged in a homemade Mexican meal. After a discussion on the process of voter registration, we divided into small groups (each of which included a Spanish-speaking member of YAYA to translate and a member of the community to direct us around the neighborhoods) to scour different parts of the city and register people to vote. These personal interactions with the citizens allowed us to immerse ourselves in the community on a level that we'd never done before. We learned more about the people of Fellsmere and garnered a better understanding of the plights they face as a farm worker community and a voting population.
We gathered again at the office to take a short trip to the fully-developed original community garden plot. There, we got our hands dirty and picked sweet potatoes to take home with us. We also made a visit to the second garden plot and, although it's a work in progress, we observed the growth that has occurred there since our last trip in June. Back in June, we worked to build the fence and clear the field of weeds and debris – leaving it empty except for soil. Now, there are rows of corn and jicama.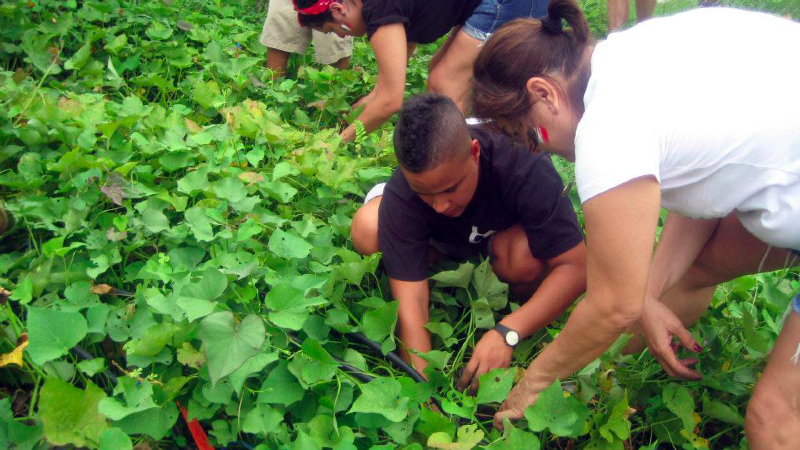 Then, it was back to the office for a delicious and much-appreciated Mexican dinner, which included a dish of fresh sweet potatoes. Yolanda showed us a presentation she gave at a recent conference about FWAF's work with the community gardens. She had included pictures of YAYA in the presentation. While sharing this with us, she repeated something that really touched my heart: it was along the lines of "always YAYA", "we always remember YAYA". Yolanda talks a lot about how YAYA has helped FWAF but I think that she's done more for us than we've done for FWAF – she's accepted us into her heart and into her community and shared her tremendous insight and wisdom.
We said our goodbyes, thanked our hosts, exclaimed our anticipation for the next trip, and departed all in good time.
Deanna Yarizadeh
Orlando YAYA
Photos courtesy of Jon Hohensee, Nicole Godreau, Eliana Soria, & Maru Martinez