Support Farm Workers!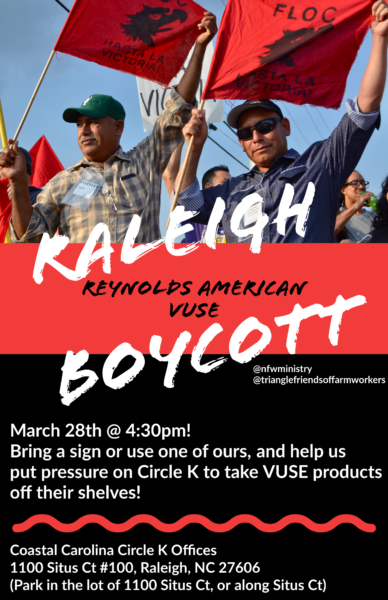 4:30 – 5:30 pm Sidewalk Picket
To CARPOOL from Durham, email daustin@mindspring.com
To CARPOOL from Chapel Hill, email thompiriam@gmail.com
(Type Carpool March 28 in the subject line.)
Rain Date: Thursday, April 4
We are calling on Circle K's regional management to meet with us about removing VUSE from their shelves.
Triangle allies of Farm Labor Organizing Committee (FLOC) have repeatedly asked Circle K's Coastal Carolina division management to meet with us about the abuse of farm workers in the supply chain of one of their products – Reynolds American VUSE E-cigarettes. We have again asked for a meeting on March 28.
But Circle K has not even responded to our requests. Circle K has the power to influence Reynolds American.
Reynolds has the power to guarantee farm workers a voice in the workplace.
Sponsored by Farm Labor Organizing Committee, National Farm Worker Ministry, Triangle Friends of Farmworkers, Church Women United of North Carolina, NAACP Chapel Hill/Carrboro Chapter, Student Action with Farmworkers
RSVP at the Facebook event @nfwministry or @trianglefriendsoffarmworkers For more information contact Susan Alan at salan@nfwm.org or Dave Austin at daustin@mindspring.com.