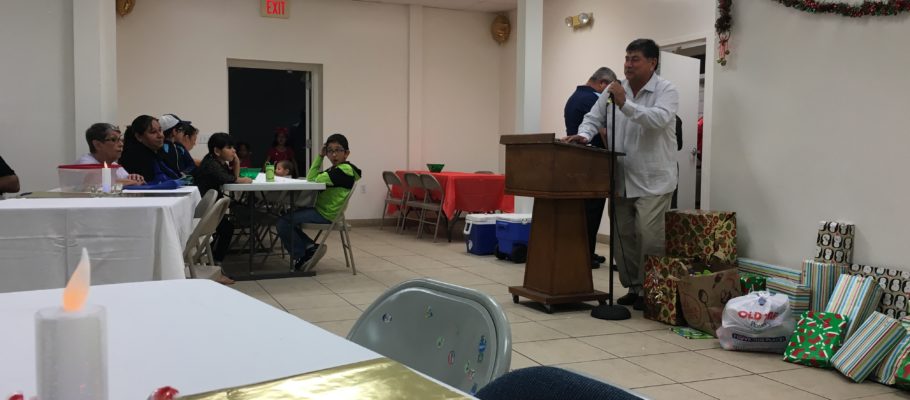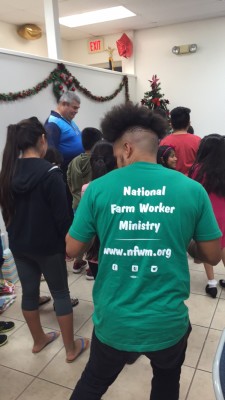 Tis the season for joy, comfort, and food shared among family and friends. This is exactly how YAYA spent this past weekend with our extended family in Fellsmere of the Farmworker Association of Florida. Las Posadas is a Catholic Mexican tradition celebrated over 9 days beginning December 16th and lasting until Christmas Eve. The tradition is based around Mary and Joseph searching for lodging over the 9-day period, which represents the 9-month pregnancy, until they arrive at the final home that the hosts invite them in to.
Each year, YAYAs work with local community partners such as, LCLAA, CLC-AFLCIO, JWJ, Orange Co. CTA and others to collect new and gently used toys for farm worker families across the state. This year we collected over 200 toys for the 3 communities we work closely with during this time of the year. We spent most of Wednesday and Friday wrapping gifts and coupling them with books, generously given by Ali Castro, for the Posada. On the evening of Friday, the 18th, 4 YAYAs traveled down to Indian River County to participate in the annual Posada celebration.
The evening started off with Maru, the local FWAF-Fellsmere organizer, thanking participants for attending the celebration. Once she delivered her opening lines, Tirso Moreno, the General Coordinator of FWAF, shared some of the successes of FWAF this year including stricter regulations regarding pesticide handlings through the EPA. Then Maru thanked community members for helping with the Campesinos' Garden and other general organizing in the community. After that, we enjoyed pozole, tamales, and ponche. Of course, YAYAs served the guests before divulging in the delicious food but not without sneaking in a few bites beforehand.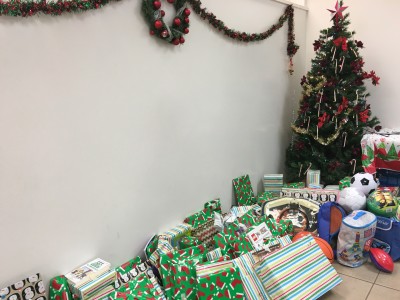 After dinner, the kids started to venture outside to take swings at the piñata. Obviously this is the most exciting time for the children as the candy prize is, quite literally, the sweetest gift of all. Two broken piñatas later, we began distributing toys to the children. Everyone was ecstatic about their gifts from remote controlled cars to a surplus of soccer balls! For the few remaining toys we had, children decided to have a dance-off to see who would get the few left. It was a stupendous time, as always, with Fellsmere community members!
As conversations of solidarity continue to be at the forefront of the organizing world, YAYA wants to thank all the individuals who helped make this year's toy drive, and Posadas, successful. Without our community partners we would not be able to provide for these communities, so THANK YOU! Let's move into 2016 with friends and family and thank the one's who feed us year after year. Your support of YAYA and farm workers across the country is met with gratitude and love.
Blessings,
Nico Gumbs