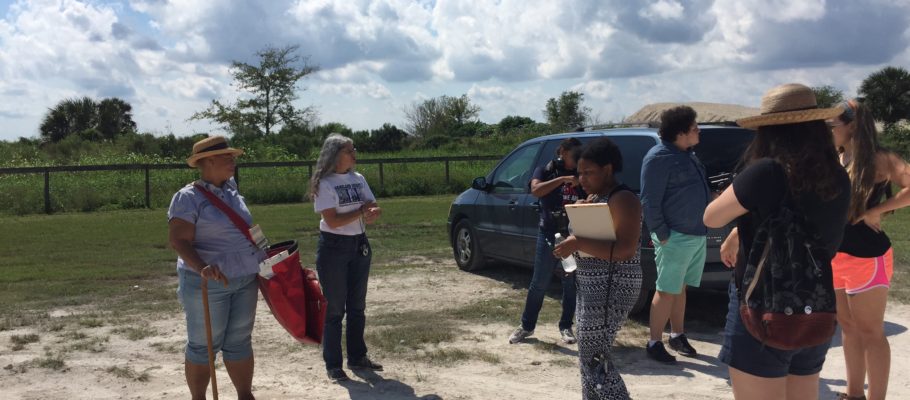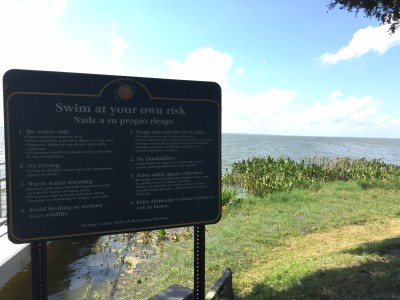 On Sunday, October 11th, we took a Toxic Tour of Lake Apopka and the surrounding areas. This was organized by Jeannie Economos, Pesticide Director, of the Farmworker Association of Florida (FWAF). Our group was also very luck to be joined by Linda, a former farmworker in the Apopka area. We met up at the Farmworker's Association building in Apopka, where we were introduced to background information on the history of the area with regards to agriculture, farmworkers, and the environment. We learned about the history of the landscape on the Northern side of lake Apopka, and why it was the ideal location for farmland. From there, we discussed the lives of the farmworkers and the demographic make-up of the farmworker population in Central Florida. In this area, most of the farmworkers in that time period were African Americans. The echo effects of pesticide use, rampant racism, and economic pillaging of the farmworkers by the farms are still being felt in these communities to this day. It was heartbreaking to hear about the health effects that farmworkers and their families are subjected to due to living and working conditions. The group watched a short documentary film, Out of the Muck, produced by a few Rollins students that focused on the lives and activism of former farmworkers in Apopka. We wrapped our discussion with a round of questions or comments, and then piled into the FWAF minivan to head out to see the area.
There were 8 attendants total, which turned out to be ideal for this tour, as we could all fit (tightly) into one car. This made the tour and any questions regarding what we were seeing much simpler than if we had been spread out among multiple cars. We drove past housing that had been used for the farmworkers in the past, which were obviously in quite poor condition, although we noticed that people were still living there. Right across the street was a large chemical plant, which Jeannie idenitified as a superfund site. There were towers of barrels, and apparently the land underneath is hugely contaminated. A little further down the road, we came across a septic tank treatment facility. The smell was absolutely horrid. Once the occupants of the car had the full chance to experience the smell, Linda and Jeannie told us that right on the other side of the treatment facility was a neighborhood. There are people who live with this in their backyard. As we drove, we learned about the affects of the pesticides on the farmworkers, the farmland, and Lake Apopka.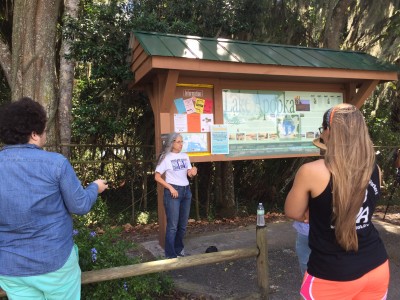 From there, we visited an old patch of farmland, which had been reclaimed for recreational purposes. It was here that Linda and Jeannie told us about how, when the farms were bought out, farmworkers had their homes pulled out from underneath them. Many of the farmworkers in the area weren't migrant farmworkers, so they had their homes on the farmland as well. When the land was bought out from the farms, they were effectively kicked off without seeing any of the equity they put into their homes over the years.
As we turned to head back to the FWAF office, we drove through a small neighborhood that is a prime example of environmental racism and highlighted the need for environmental justice work to continue with vigor. This neighborhood was surrounded on all sides by toxic environments: landfills, a medical waste incinerator (right next to a playground), and a water treatment plant. It's a common theme in Urban Planning (which is very often done for wealthy white people, by wealthy white people) that people do not want these "dangerous" or "unsightly" facilities in their yards, hence the term NIMBY (Not In My Backyard). Although I conceptually understood that these undesirable facilities are placed in low-income areas, this was the most shocking and intense example I've seen in person. This is an incredibly important issue to address on multiple levels: health (physical and mental), safety, economic, as well as a handful of others.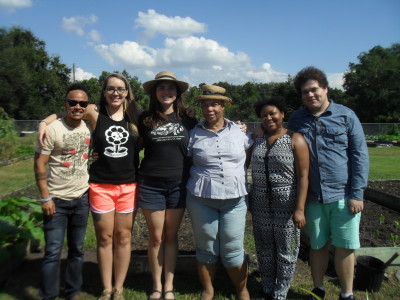 We ended the tour on a lighter note, which I think everybody found a bit refreshing and inspiring. We stopped at the community garden in Apopka, and wandered around admiring people's beautiful and strong plants. I think it was important to show this part of it, because it gives hope that more can be done. There are movements to develop food from more ethical and environmentally-friendly sources, and they are making communities stronger and more resilient in the process.
I would like to thank Jeannie and FWAF for organizing this eye-opening event. This event was so important for YAYA because it gave us an opportunity to explore a topic so salient to our region and our neighbors. Seeing that these issues aren't just frozen somewhere far in the past helps us to realize that we can support people who are going through these things today, and that we can stand in solidarity with both past and present farmworkers in their fight for justice.
Evie Burr
Orlando YAYA