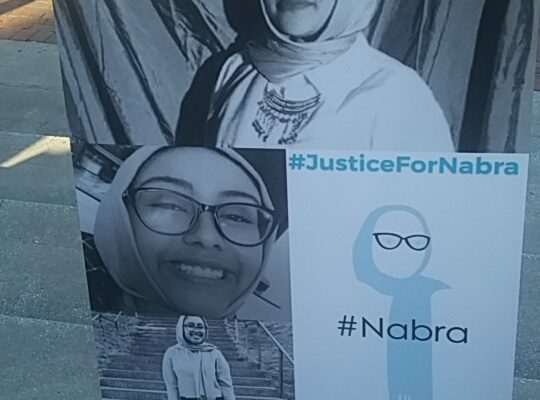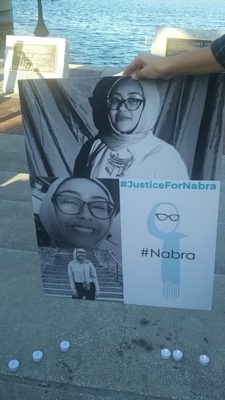 On June 22, the Orlando YAYA Chapter attended a vigil to demand justice for Nabra Hassanen, the Muslim teenage girl who was brutally murdered in Reston, Virginia. Nabra was a bright, generous, caring 17-year-old who was loved by her family, friends, and community.
The event was held by several organizations of powerful Muslim women – CAIR- Florida, the Muslim Women Organization, Women of MYA, the American Muslim Community Center, UCF's Muslim Student Association, and UCF's Students Organizing for Syria.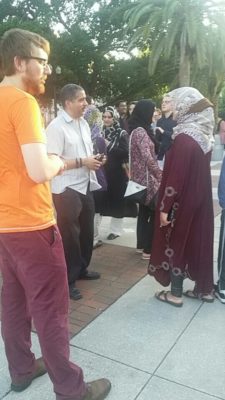 Council on Islamic-American Relations (CAIR) tracks hate crimes on a monthly and yearly basis. Since Trump's election, incidents of hate crimes against Muslims have increased by over 500%. Sadly, Muslim women who wear a hijab are feeling especially vulnerable and are organizing trainings to protect themselves from hate crimes.
Undocumented immigrants including farmworkers and Muslim Americans are experiencing the brunt of the new administrations hateful rhetoric and scapegoating. Just last night, the ban on certain travelers from six majority Muslim nations was reinstated. What gives us hope in this moment is the ever increasing solidarity between Latinx, undocumented, queer, Muslim, immigrant, Black, and marginalized communities in Orlando and across the country.