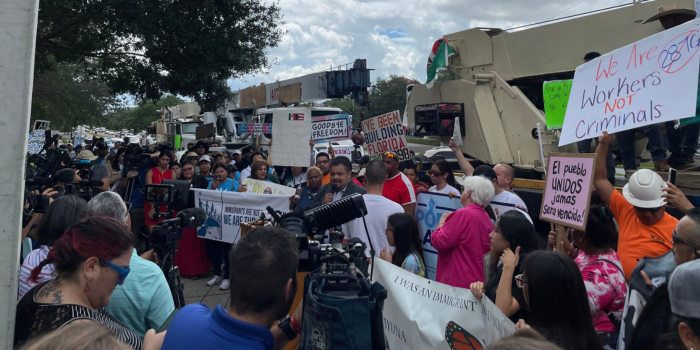 Written By: Finn Spencer, Farmworker Association of Florida
Originally published at Grassroots Farmworker Action Blog
Truly a grassroots movement, protests against the anti-immigrant bills in Florida took place all over the country on June 1st with Florida leading the way. The community came together and called for a labor strike, for businesses to close down, for a halt of any and all purchases, and for community members to either attend demonstrations or remain at home. The goal of these actions surrounded the idea of "a day without immigrants" to prove how much our society relies on immigrants. The idea for this movement began on social media sites such as Tik Tok, and grew organically as the word spread around the state and the country, and as organizations like ours began to get involved.
In Apopka, our community joined together for a press conference and protest outside the office of Carolina Amesty- a Florida representative and child of Venezuelan immigrants who voted in favor of the anti-immigration bill, SB1718. This bill restricts immigrant rights drastically and further ripens the system for racial profiling. In a nutshell, this bill restricts travel, work availability, requires hospitals to gather immigration status of patients, requires employers with over 25 employees to use E-Verify (which was already a requirement, however this bill implement's fines for not using it which were not previously in place), and more. This law goes into effect on July 1st, and there's still many uncertainties about some details of the bill (for example, who will enforce it?).
The press conference highlighted speakers from the the community and from the organizations involved. Local crane workers drove their equipment to the conference, blocking traffic in the street and garnering much attention from law enforcement and news network helicopters. This was a really moving demonstration, filled with powerful chanting, home-made signs, flags, and a group of nearly 300 people coming together prepared to take direct action. After the press conference, we mobilized to canvas Carolina Amesty's neighborhood and spread information on all the harm she's done representing the area. Especially considering the small margin she won by, door-to-door action like this can do wonders when it comes to influencing voters. We hope to see this work come to fruition at the polls, as it becomes clearer every day that anti-immigrant policies are not at all popular in Florida.