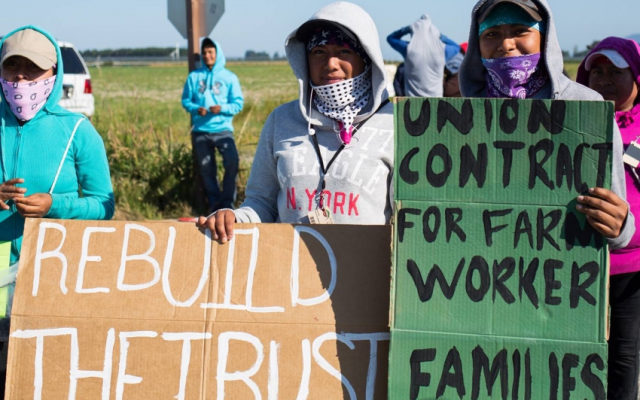 Dear NFWM Supporters,
We have received the following great news from Familias por la Justicia (FUJ). We and the farm workers thank you for helping to make an election and a negotiated process toward collective bargaining a reality for the farm workers at Sakuma Bros. FUJ has called off the boycott and asked us to stop all boycott activity. In solidarity we honor their call and rejoice for this victory. Let's us all celebrate this Labor Day 2016 the courage and determination of the workers of FUJ!
Sunday, September 4, 2016
IMPORTANT MESSAGE FROM FUJ
Dear Supporters,
As of today we have officially agreed to an election and negotiation process for a collective bargaining agreement with Sakuma Bros Berry Farm. Thanks to your tireless efforts we are entering into this next phase of our union's development with hope and determination. At this time we are calling for an end of the boycott, and all boycott activities. Out of respect for the process and our memorandum of understanding with the company please do not contact past, present or potential customers, purchasers, sellers or users of products coming from Sakuma Bros Berry Farm to convey criticism of any and all aspects of Sakuma's business and operations.
Please stay tuned at the Familias Unidas por La Justica Facebook page for updates.
Thank you,
Ramon Torres
Felimon Pineda
FUJ