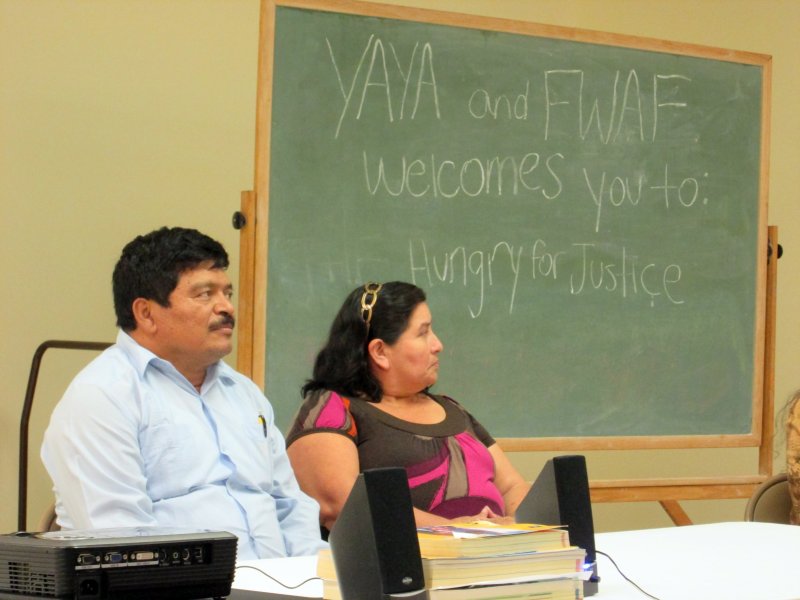 On Tuesday, March 25th, I joined YAYA and the Farmworker Association of Florida (FWAF) for a film screening of Hungry for Justice. There were at least 25 people in attendance, members of the organizations and individuals who were simply interested in seeing the film.
The film covers the Agricultural Justice Project (AJP), which ensures that farm workers work under the right conditions and are treated, to put it simply, like human beings.
Once a farm is AJP approved, their fruits, vegetables, and other agricultural items get the AJP seal on the products . In this way, buyers can rest assured that the farm workers who picked their food are working under good conditions. As consumers, we can ask restaurants and grocery stores if they have AJP approved products. This will help spread awareness about the project and hopefully more people will want to get on board and help farm workers.
After the film was shown, farm workers Miguel and Reina spoke about the poor working conditions in the fields where they work. They both pick apples, oranges, and ferns. Reina admitted to working all nine months of her pregnancy and to giving birth in a grove while working.
Miguel and Reina also spoke about their minimal healthcare options, which are especially important because their daughter has a learning disability and a very itchy rash that extends from her head down to her left arm. There is a high chance that their daughter's medical conditions are a consequence of pesticide exposure, since Miguel and Reina are forced to work around pesticides, and it was those pesticides that the baby was born into.
Reina and Miguel have suffered a lot in their jobs; there were many more stories but some are too gruesome to share at the moment. One of the important themes of there story is something YAYAs are all too familiar with the low wages, threat of deportation if one were to speak up, and the lack of adequate health services and care for farmworkers. Farm workers such as, Reina and Miguel, face horrendous working conditions from daily pesticide exposure, to back-breaking conditions and repetitive movements which are known to cause arthritis in a lot of workers.
It's important to remember that farm workers are people like us, with lives, fears and dreams. The unfair treatment that they face in the fields is not what they came here for.
Before ending the presentation Miguel stated: "People from our home countries come here for many reasons: political, personal, etc. They come to the United States to attain the 'American Dream,'" but that is not what they get. All they ask is to have better working conditions and a real chance at happiness. Is that too much to ask?"
This event was important because it provided a good opportunity for the audience to see and hear about the working conditions for farm workers. The film reminded us that anybody can help make a difference by being informed and aware about the reality in the fields.
The event opened my eyes to problems I wasn't aware of, such as the working conditions for farmworkers and the lack of information about the pesticides that they handle.
YAYA members were great at answering questions and helping everyone understand what they can do to help, and that was great. It's always good to learn and be informed, it's the first step to making a change!
"Every time I eat food, I thank God for the hands that have picked it, because I know how hard they must have worked to get it." -Miguel
Jenny Quiñoes
Orlando YAYA