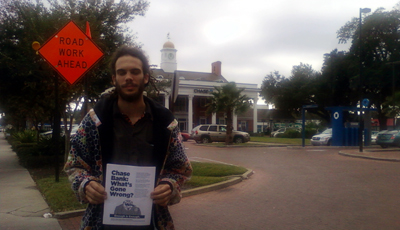 On Dec 10th, YAYAs and supporters from different areas of Florida joined hundreds of protestors who leafleted at their local Chase Banks to educate costumers and the general public about Chase's irresponsible lending practices.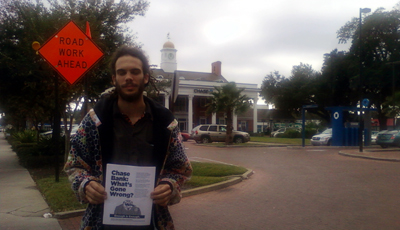 Chase lends money to the tobacco company RJ Reynolds, a company that has refused to work with farm workers to address the oppressive working conditions of the tobacco fields of North Carolina. As supporters of farm workers and their right to organize for a better life, we are holding Chase accountable and demanding that they refuse to lend money to RJ Reynolds unless they work with the farm workers to address the human rights violations in the fields.
People are starting to realize the irresponsible behaviors of Chase. A lady gave us a $20 bill as she was leaving the bank, thanking us for the information and asking that we made more copies of the fliers with her donation.
We are sure that Chase will have to do the right thing as we continue to educate others about their practices.
Read more about the campaign demanding that RJ Reynolds meet with farm workers.