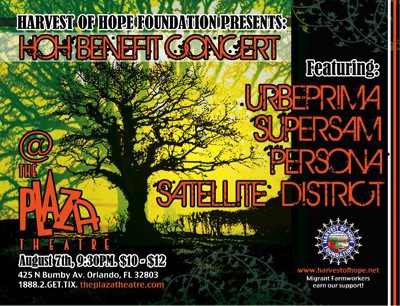 On August 7th, 2010, Orlando YAYA tabled at the Harvest of Hope Foundation fundraising concert in Orlando, Florida.
We would like to thank the Harvest of Hope Foundation for allowing us to have an information table and for giving us time to speak during the event. We would also like to thank Urbe Prima for helping us get there.
"For last night's anticipated event, I decided to show up early only to get a call from Dominique informing me that she'd be a bit late! Which was fine since James soon joined me and together we were tasked with coming up with something good to say during our few minutes of planned stage time (which included James pushing me off stage when it came time for him to talk!).
Once we arrived to the Plaza Theater we made our way inside and meticulously prepared our table, like only Dominique can, right next to the Harvest Of Hope table. Needless to say, we were in good company.
From then on we worked on what we'd say on stage and also on a mysterious interview we'd do in front of cameras that never came to fruition.
OH YEAH! There was also amazing music happening all around us, I personally loved Urbe Prima and Satellite District, both bands put a lot of energy to their show.
And as for our stage appearance? It went pretty well, I went ahead and introduced YAYA and what we do while James thanked everyone he could think of, from there I finished up by inviting everyone to come to our table to do the following:
1. Sign petitions for the DREAM Act and AgJOBS,
and
2. Get to know us!
Overall we did pretty well, we left $29 richer from selling t-shirts and stickers, collected 33 signatures, and got a few CIW (Coalition of Immokalee Workers) postcards signed along the way too!
Until next time! "
Juan Barredo
Orlando YAYA