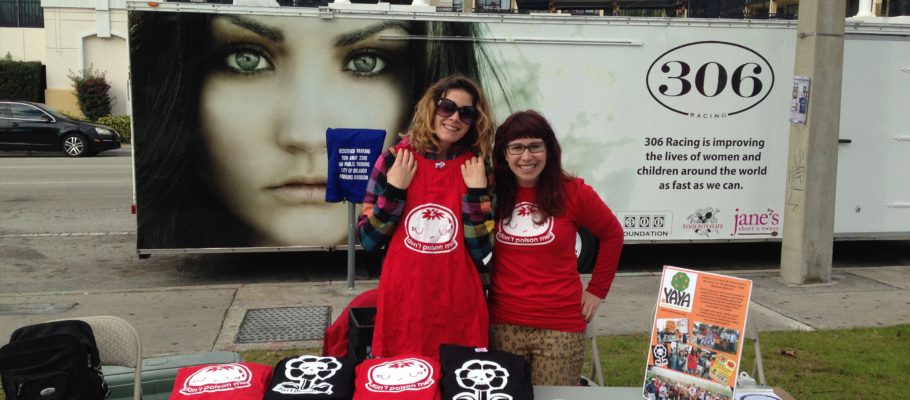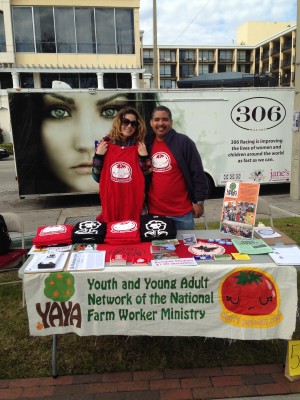 On January 25, five YAYAs joined the Greater Orlando Human Trafficking Task Force (GOHTTF) at their Sixth Annual Human Trafficking Awareness event at Lake Eola. YAYA was invited by GOHTTF to spread awareness about labor trafficking and how farm workers are affected by human trafficking.
There were a vast variety of organizations attending the event including: the Victim Service Center of Central Florida, the United Nations Association of Greater Orlando, Amnesty International USA – Orlando Chapter and many more. This was YAYAs 1st year attending the event and we attracted a lot of attention with our beautiful table, informational resources, and warm smiles.
When talking to table visitors, many said that they were just walking around Lake Eola when they saw the event and wanted to check it out. We received many visitors from the Orlando area and other event attendees. When asked the question of what people think of when they hear "human trafficking", a majority of them said sex trafficking and children being sold. Sex trafficking is the common representation and thought when people hear human trafficking mentioned. In reality, there are many ways a person can be trafficked which includes labor trafficking. This led to why YAYA was at the GOHTTF event and how farm workers are impacted by labor trafficking.
I enjoyed the event tremendously: the live music, food trucks, the live performances, and of course the many Orlando organizations coming together for this important, awareness event.
I am glad that I attended this event with YAYA because two years ago, I was one of those people who did not realize the many forms of human trafficking. The last two years have showed me my tremendous growth and knowledge that I have obtained. Much of that knowledge, attributed to being a part of YAYA.
Nicole Elinoff
Orlando YAYA
Photos courtesy of Nicole Elinoff