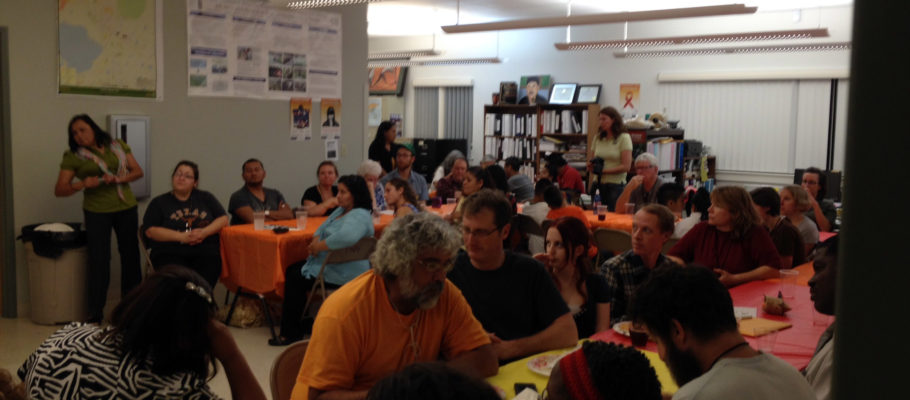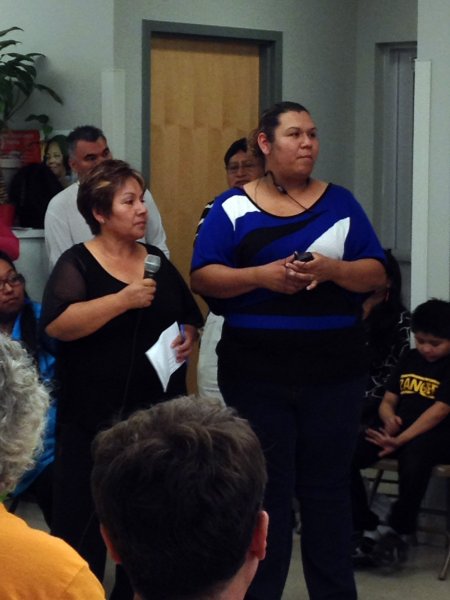 On Wednesday, December 11, 2013, five YAYA members drove out to Apopka, Florida, to join the Farm Worker Association of Florida (FWAF) and the Domestic Fair Trade Association (DFTA) for a community forum and dinner.
FWAF was hosting members of the DFTA and organized a community dinner to talk about the ongoing issues that farm workers are facing and the different things FWAF has been doing about these issues.
The night began with a delicious meal prepared by the members of FWAF, including homemade tortillas and salsa. Many different folks from FWAF, DFTA, and other organizations gathered around the tables and conversed. At the dinner, all of the coordinators of each FWAF office were present, including the general coordinator, Tirso Moreno.
The forum began with an opening introduction from Tirso who welcome all of us. Afterwards, FWAF Pesticide Coordinator, Jeannie Economos, talked with us about the issues of pesticide exposure, low wages, and other working conditions that farm workers have been dealing with for over 50 years.
Next to present was one of FWAF's Community Organizers, Elivra Carvajal. Elvira spoke about immigrant farm workers and explained from personal experience what it's like to be one in the U.S. As many of you can imagine, Elvira endured some of the harsh working conditions that farmworkers face.
Yolanda Gomez, FWAF Community Organizer in Fellsmere, talked with everyone about how the community garden in Fellsmere sprouted, what has been a success, and what has been a challenge. Yolanda got three members who have volunteered at the community gardens to talk about their experiences. Those who have visited Fellsmere and worked in the community garden all enjoy it and achieve appreciation for the process of growing and nurturing the plants.
The Fellsmere community garden has been a great success in that they have been able to take their crops to the Farmer's Market 6 times now and have gotten great feedback from those who have stopped by. Although there is still work that needs to be done, the community garden has been a very valuable project to many people.
We then heard from two members of the East Central Florida Regional Planning Council (ECFRPC), Holly Baker and Andrew Landis, who talked about the Apopka Community Food Assessment that they conducted. In order to create a cleaner and more sustainable community, the people's opinion was wanted. And so, the ECFRPC conducted a community food assessment of the South Apopka area. According to the survey, things such as: prices, nutrition and freshness were identified as the most important factors in fresh food purchases.
I believe the event matter to YAYA because members had the opportunity to see the great work all 5 FWAF offices have been doing in conjunction with the partnerships they have, specifically with the Domestic Fair Trade Association. It allowed for us – YAYA members – to see the breadth of FWAF organizing not only locally, but nationally as well.
Cristina Berrios
Orlando YAYA