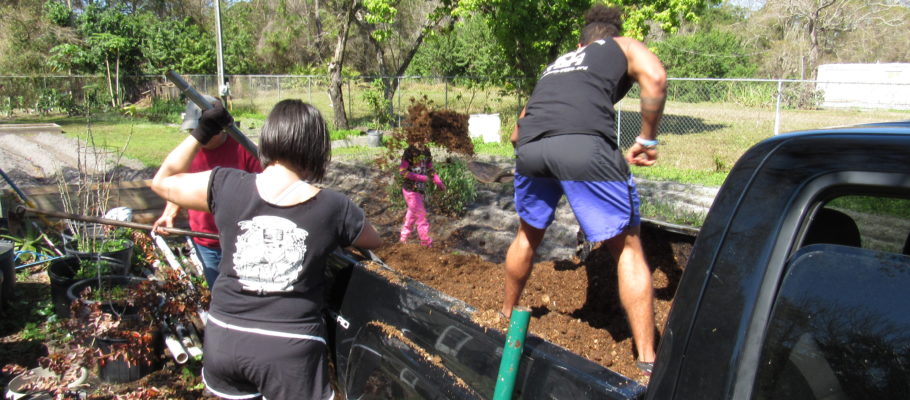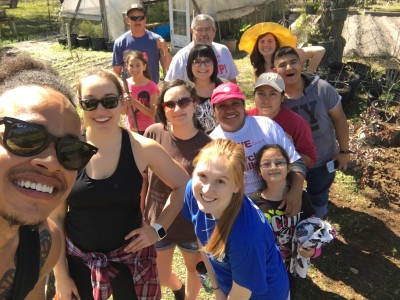 After being an active member of YAYA-NFWM for over a year now, I have heard many times that working in the Fellsmere Community Gardens is one of the most fun experiences that YAYA members can have. I made my long overdue trip to Fellsmere with five other YAYA members on Saturday, February 27th.
When we first arrived and the Farm Worker Association of Florida's Fellsmere office we were greeted by Maru and her family. We quickly shipped out to the garden so the real work could begin. Nico, Deanna and I were tasked with shoveling manure to ensure top-quality soil for the garden. Evie, Emilia and Rosie stayed behind so they could weed the garden, dig up and replant flowers and other crops, prepare the plots for new plants, and also have some fun playing with baby lizards. After a long day of harvesting, weeding, and shoveling, we headed back to the office for a delicious home-cooked meal. We all had a great time getting our hands dirty and giving back to the farm workers who give so much to us.
Unfortunately, it is a sad reality that many farm workers do not have access to the fresh food that they work so hard to harvest for consumers like you and me. That is why community gardens like the one in Fellsmere are so important. These gardens give farm workers and allies the chance to engage in sustainable agricultural practices that give farm workers access to healthy, pesticide-free fruits, vegetables, herbs, and other crops.
I would like to say a big thank you to Maru and FWAF, for making this garden prosper. Thank you to Nico for their invitation to be a part of this amazing experience. I can't wait to go back!
In solidarity,
Andrea DeWitt
Orlando YAYA