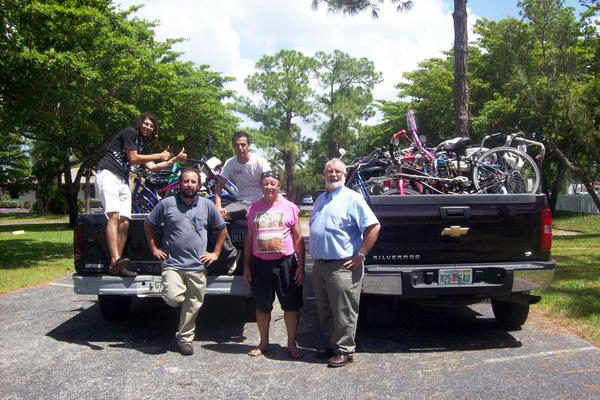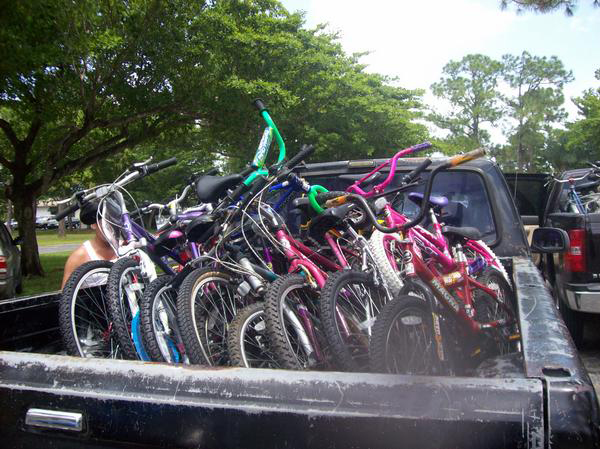 These beautiful bikes finally found a home!
Churches, volunteers, support groups and farm workers around Florida continue to work on our Florida Farm Worker Bicycle Drive.
Thanks to your generosity, we have collected numerous bicycle donations from different churches and concerned individuals. Our volunteers continue to fix them and transport them!
The Second delivery of bicycles took place on Monday, September 8th at the Fort Myers Congregational Church, where we met with farm workers and the staff of the Farm Worker Association of Florida office of Immokalee.
More deliveries are scheduled soon! Do you want to be part of this wonderful project? Many people and communities have already taken action!
Special thanks to Hugo Esquivel for his help during this delivery and for taking the pictures used in this report.
Thanks to the hard work of the Lake Worth Bicyle Collective, whose members fixed these bikes, we were able to deliver a group of 10 bicyles for farm workers in Immokalee. One of the recipients is a farm worker who was in desperate need for transportation to go to school on the weekends.
Special thanks to The UCC Church by the Sea for taking the pictures used in this report.