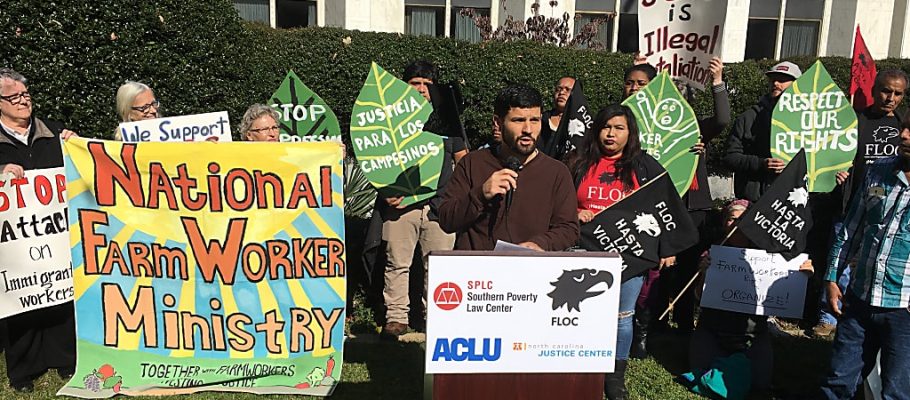 As we reported to you earlier, in July the North Carolina Legislature passed and Gov. Roy Cooper signed S615, the Farm Act. S615 includes two terrible amendments, added at the last minute, which can only be seen as an assault on FLOC, the Farm Labor Organizing Committee, and the gains the union has made organizing workers in NC. The amendments make it illegal for farmers, who have signed union agreements, to deduct dues from union members who want to pay those dues; and it makes it illegal for farm workers to ask growers to sign an agreement with their union as part of settling wage or other legal violations. NFWM immediately filed complaints of conflict of interest with the NC Legislative Ethics Committee against the two main movers of the amendments, both farmers. After confidential hearings about which NFWM had no knowledge, the Ethics Committee dismissed NFWM's complaints without recourse to challenge the dismissals.
"Politicians that are also growers shouldn't pass self-serving laws simply because they don't want their workers to unionize," said FLOC President Baldemar Velasquez. "With the continuation of Jim Crow-era laws that aim to stop a now almost entirely Latino workforce from organizing, this is an affront to freedom of association and smacks of racism. Companies like Reynolds American should be embarrassed that growers in their supply chains are attacking the very farmworkers who make their companies' wealth."
Now FLOC is fighting back! On November 15th, FLOC and two farm workers filed a federal lawsuit challenging S615. Along with the Southern Poverty Law Center, the American Civil Liberties Union, the North Carolina Justice Center, and the Law Offices of Robert J. Willis, they are arguing that it impedes farm workers' First Amendment right to participate in unions, and asserts that the law is discriminatory, as more than 90 percent of the state's agricultural workers are Latino. They are also asking the court to grant preliminary and permanent injunctions, restraining state officials from enforcing the law.
More than 100,000 farmworkers provide labor to North Carolina farms, helping to generate more than $12 billion for the state economy. The vast majority are Latinos and work seasonally, many under temporary H2A visas.
"Farmworkers provide indispensable labor to North Carolina's economy," said Kristi Graunke, senior supervising attorney at the SPLC. "In exchange for their sacrifices and hard work, the legislature has repaid them with suppression of their constitutional rights. They deserve fair compensation, humane working conditions, and the ability to remedy grievances through collective bargaining. This law swings open the door for worker abuse on every farm across the state."