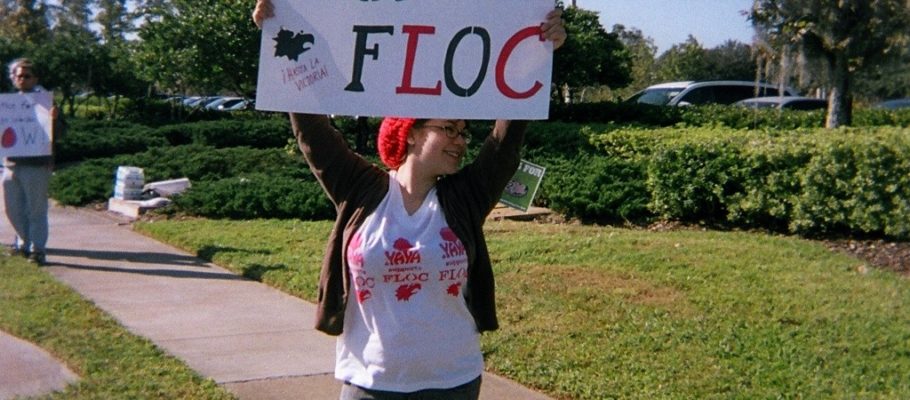 November 7, 2009 – A group of approximately 30 concerned students from the University of Florida, Orlando YAYAs and YAYA supporters gathered in Gainesville, FL to deliver a message to the Board of Directors of the University of Florida Foundation (UF Foundation), urging them to live up to the UF mission statement of social responsibility and demand that her colleague, Susan Ivey, meets with the Farm Labor Organizing Committee (FLOC).
Susan Ivey, the CEO of RJ Reynolds Co., who serves on the Board of Directors of the UF Foundation, has continuously refused to meet with tobacco farm workers of North Carolina (who are represented by FLOC), to discuss their substandard wages and deplorable working conditions.
Tobacco farm workers live and work in inhumane conditions that expose them to pesticides, long work hours – under the scorching sun, doing backbreaking work, and are susceptible to nicotine poisoning, which earns them a very low wages and substandard housing.
RJ Reynolds is a multi billion corporation that profits from the surplus value of farm workers who pick their tobacco and therefore they should assume a very high level of responsibility toward improving their reprehensible laboring conditions.
By refusing to speak on behalf of farm workers to the tobacco growers of North Carolina, we feel that Susan Ivey is not living up to the UF Foundation's "Florida Tomorrow" vision, which states: "Florida Tomorrow is a day when "wellness" is a state of being for people of every age, race and gender." Therefore, we strongly feel that YAYA, our friends from the University of Florida, and Gainesville SDS, had a every reason to organize a rally outside of the UF Foundation Board of Directors meeting and to demand justice for farm workers.
A delegation of four people made their way into the UF Foundation Board of Directors meeting (which was open to the public) to confront Susan Ivey, but she was not present. We sat for the duration of the meeting and afterwards sent a message with almost all board members of the UF Foundation, including the University of Florida President (who assured us that he would personally make sure that it reach her desk), urging her to meet with FLOC.
As promised in the share holders meeting, the youth and young adults from Florida will not rest until Susan Ivey meets with FLOC and upholds the values of the UF Foundation vision of "Florida Tomorrow"and of the gator nation as a whole.
Hasta la Victoria!
Beto Soto
UF Graduate Student