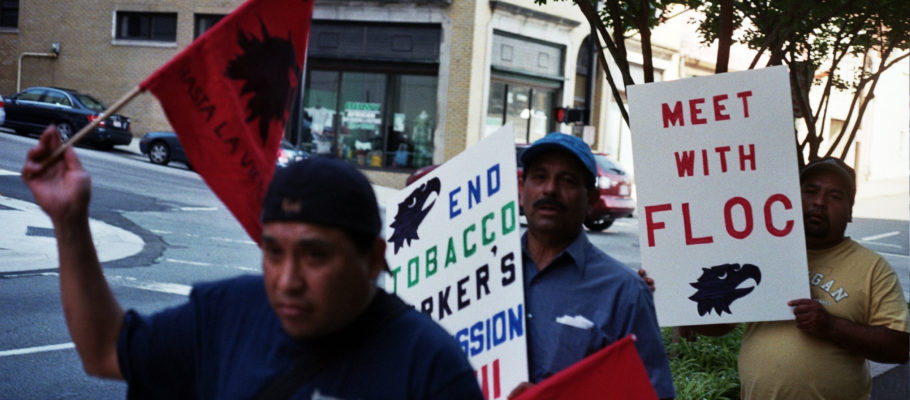 On May 1st, nine members of Orlando YAYA drove to North Carolina to stand in solidarity with the Farm Labor Organizing Committee (FLOC) at the annual shareholder meeting for RJ Reynolds tobacco company. For the last 5 years FLOC has been trying to meet with RJ Reynolds to discuss the treatment of farmworkers on tobacco farms. This year, RJ Reynolds finally agreed to meet one on one with FLOC to discuss the farmworker conditions.
Three members of Orlando YAYA sat in on the May 3rd shareholder meeting and asked questions to the board of directors about their treatment of farmworkers while the six other members helped lead chants at the picket outside of the meeting. Before we arrived for the shareholder meeting, organizers for FLOC asked Orlando YAYA if we could help lead the chants at the march and picket. YAYA was the only organization that came from Florida to show solidarity with FLOC.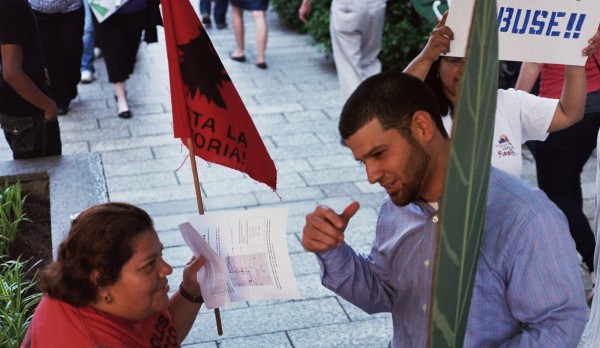 FLOC organized the march and rally after the shareholder meeting where YAYA played a large role. One of our members helped make signs that would be used at the march and the Orlando YAYA chapter were the loudest at the march. I was given the megaphone and led the chants for the march. The rally had many important speakers. Some of the speakers were: Justin, an organizer from FLOC; the president of the North Carolina AFL-CIO, and Baldemar Valasquez the president and founder of FLOC. Baldemar Valasquez spoke about the longevity of the RJ Reynolds campaign and how it is great news that RJ Reynolds has finally agreed to meet with FLOC to discuss improving farmworker conditions. Farmworkers in the tobacco farms are exposed to many harmful pesticides, have very low wages and poor living conditions. FLOC wants to improve these things and that can only be done by meeting with RJ Reynolds unilaterally.
The day after that action, May 4th, Orlando YAYA spent the afternoon with Baldemar Valasquez and saw him sign a cooperative agreement with the North Carolina Growers Association. After that we went with him and Justin to visit a tobacco farmworker camp. While we drove with Baldemar he spoke about his experiences organizing and his background as a farmworker. It was a privilege to learn organizing techniques from a veteran organizer. Baldemar discussed that a campaign is powerful when you pressure organizations that are linked with the main corporation you are trying to target. For the RJ Reynolds company, FLOC has approached Kangaroo Gas Stations asking them to urge Reynolds to meet with FLOC. Baldemar explained that you have to affect a company's income before they will change their practices. This was a really powerful lesson to learn on effective organizing.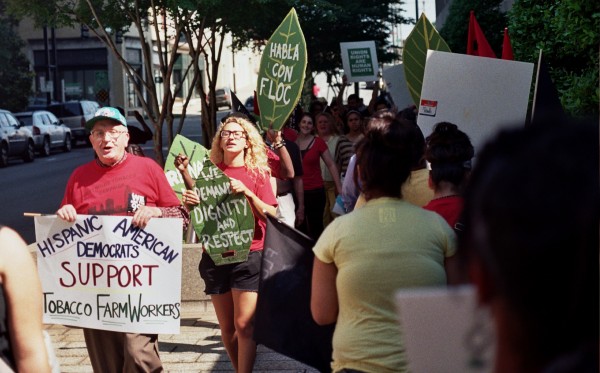 We went to a farm labor camp with Baldemar and we saw the conditions in which the farm workers live. We saw their rooms which consisted of two beds and cement; there was not any living space. There was also no air conditioning unit; it is the summer in North Carolina, it's really hot. Outside there were three sinks which are used to wash the farm worker's clothes that are covered in pesticides. We were there for about 15 minutes and when we left we were all covered in a lot of mosquito bites. We were told that the camp we visited was not one of the worst ones. Visiting the camps was a powerful visualization of what the farm workers have to live through, inhumane treatment.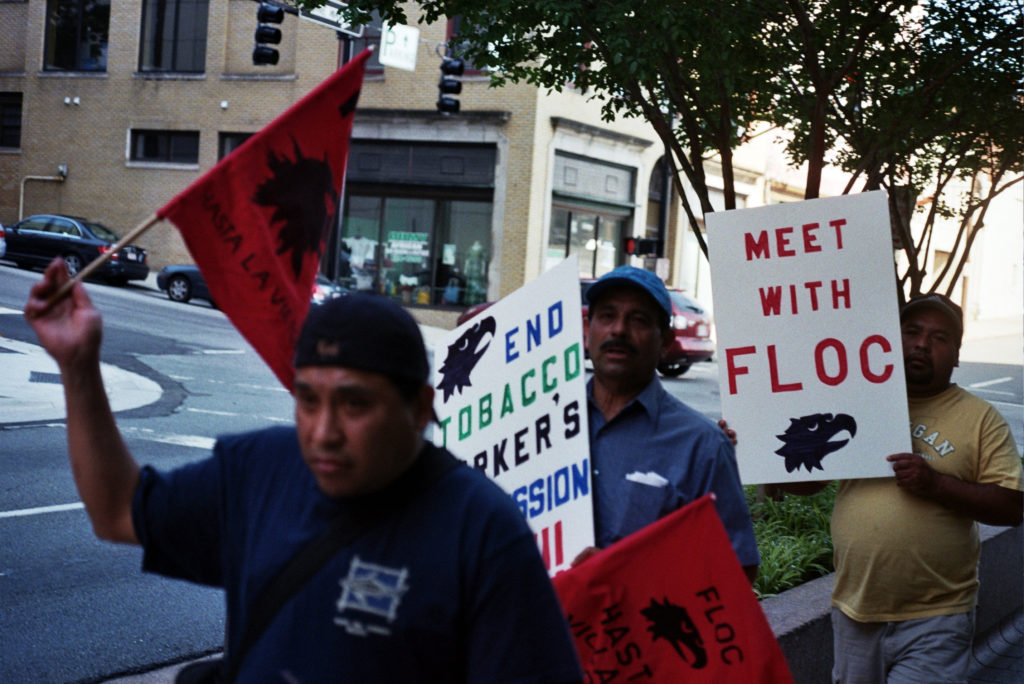 I learned a lot from this immersion trip and I bonded so much with my fellow members of Orlando YAYA. Spending time with Baldemar and sitting in on the shareholder meeting were very big lessons for me and a real privilege.
Hasta la Victoria!
Nicole Elinoff
Orlando YAYA