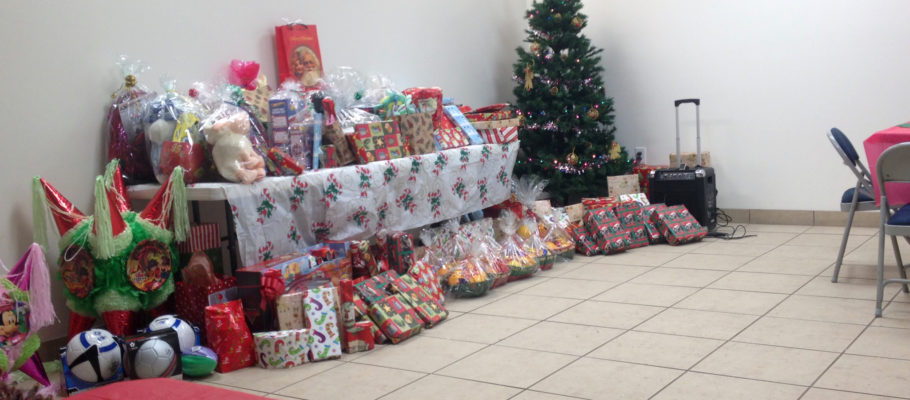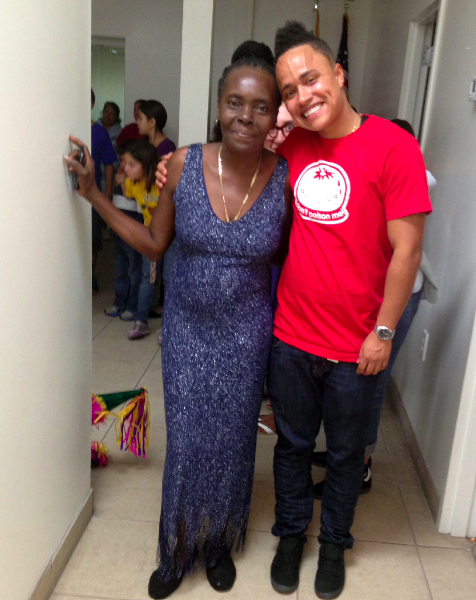 In the late afternoon of December 20th, on one of the last Fridays of 2013, three representatives from Orlando YAYA took the familiar journey to visit with the farmworker community in Fellsmere, Florida. YAYA was invited to join in the Fellsmere community's celebration of Posada, a Mexican Christmastime festival. Leaders of the Fellsmere community reached out to YAYA and asked if we could provide holiday presents for some of the many deserving children of farmworker families in the area. Over one hundred new toys, donated by supportive individuals and businesses in the Orlando area, were gift-wrapped by YAYA members and made ready for delivery to the Farmworkers Association of Florida (FWAF) in Fellsmere on the evening of the Posada.
YAYA representatives arrived early at the Fellsmere Community Center, the location of the Posada Celebration, only to find that the tireless individuals of FWAF had already set up the event space. Tables beautifully decorated with festive green and red table coverings and glitter-frosted pinecones skirted the room, surrounding the front table which sat alongside a Christmas tree and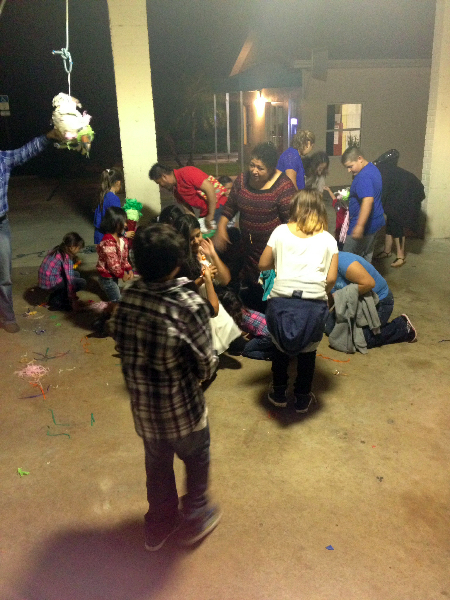 held the children's gifts. Soon attendees began arriving, each new guest greeting all others in the room before finding an open seat. Spicy hot tamales and a traditional pozole soup of chicken and hominy were served with the help of YAYA members, and the party was in full swing.
Following the meal, the party moved outside for a dramatization of Mary and Joseph's search for shelter after the birth of baby Jesus. Songs were sung while children, playing the roles of Mary and Joseph, were symbolically denied shelter twice before finally being welcomed into the third inn. The party moved back inside so that FWAF leader Yolanda Gomez could present gifts of recognition and appreciation to members of the Fellsmere community and other supporters, including Orlando YAYA.
The children then formed lines to receive gifts, and enough were collected so that many remaining toys were set aside to deliver to other children who may be lacking in presents this holiday season. Buzzing with excitement from their new toys, the kids at the party then used that energy to completely demolish several piñatas strung up outside. This made for a climactic end to another successful Fellsmere Posada celebration, while YAYA and other community members quickly worked together to clean up the community center.
The relationship between the Fellsmere and YAYA communities has been nurtured for several years through community garden work days, immersion trips, public forums, voter registration drives, lobbying trips to Washington D.C., and other community events. YAYA attends the Posada celebration, with toys in tow, every year, but I am always humbled by the warm and personal welcoming with which we are met.
This was my first trip to Fellsmere or YAYA event of any kind since moving out-of-state, and I was a bit unsure of the greeting I would be receive. My hesitancy soon proved needless. It was during a hug with my friend Elvire that I realized she was as happy to see me as I was to be able to visit with her. It is that same spirit that has made each of my nearly two-years worth of experiences with YAYA so memorable. I have had the immense privilege of making dear friends with inspiring and tireless people, from whom I have learned so much about the value of work and community.While social media and technology provides a means of keeping in touch with many of these friends, these relationships can easily dwindle with time and distance. As long as Orlando YAYA is around, however, I always have a family I can return to and connect back to these friendships that will always be so close to my heart.
The vital work Orlando YAYA does to build and sustain relationships with and support the needs of farmworker communities across the state is important not only for people who work in the fields and their families, but also for people like myself who are not farmworkers, but live alongside farmworkers and benefit every day from their often unrewarded labors and exploitation.
The knowledge I have gained through these experiences, like the friendships I have made, is unfading. YAYA has taught me the importance of advocacy for issues where I have the power and privilege of a voice. Even when I'm a thousand miles away from the orange groves I grew up next to, the advocative spirit translates into conversations in my everyday life. Whether I am on the subway debating labor unions or talking to the three-year-old I babysit about where his strawberries came from and who helped him to enjoy their sweetness, I cannot forget the individual farmworkers who have not forgotten me.
Emily Helm
Orlando YAYA