On Thursday, November 8th, YAYA participated in a "Farm Worker Awareness Panel" put on by Rollins College students as a part of International Food Workers Week. The event, put on and promoted by Heather Rashal – a Rollins Masters in Counseling student — with the help of the Farmworker Association of Florida, as a way to raise awareness about what it really takes to get food to our tables.
The event started with a screening of the short documentary "Naranjeros" which focuses on citrus workers in Florida. While the initial focus of the film was to discuss the unfair labor conditions and lack of protection for workers, there was also much discussion about the dire need for immigration reform. Though the film was only 10 minutes, it touched on multiple issues that face farm workers in a concise and intentional way. Workers shared their experiences working in the groves, about the backbreaking work they do, and the lack of protections in place for them. Advocates from the Migrant Justice Project through Florida Legal Services talked about how crew leaders can make workers who complain disappear which further proved the need for comprehensive immigration reform combined with legal protections for farmworkers.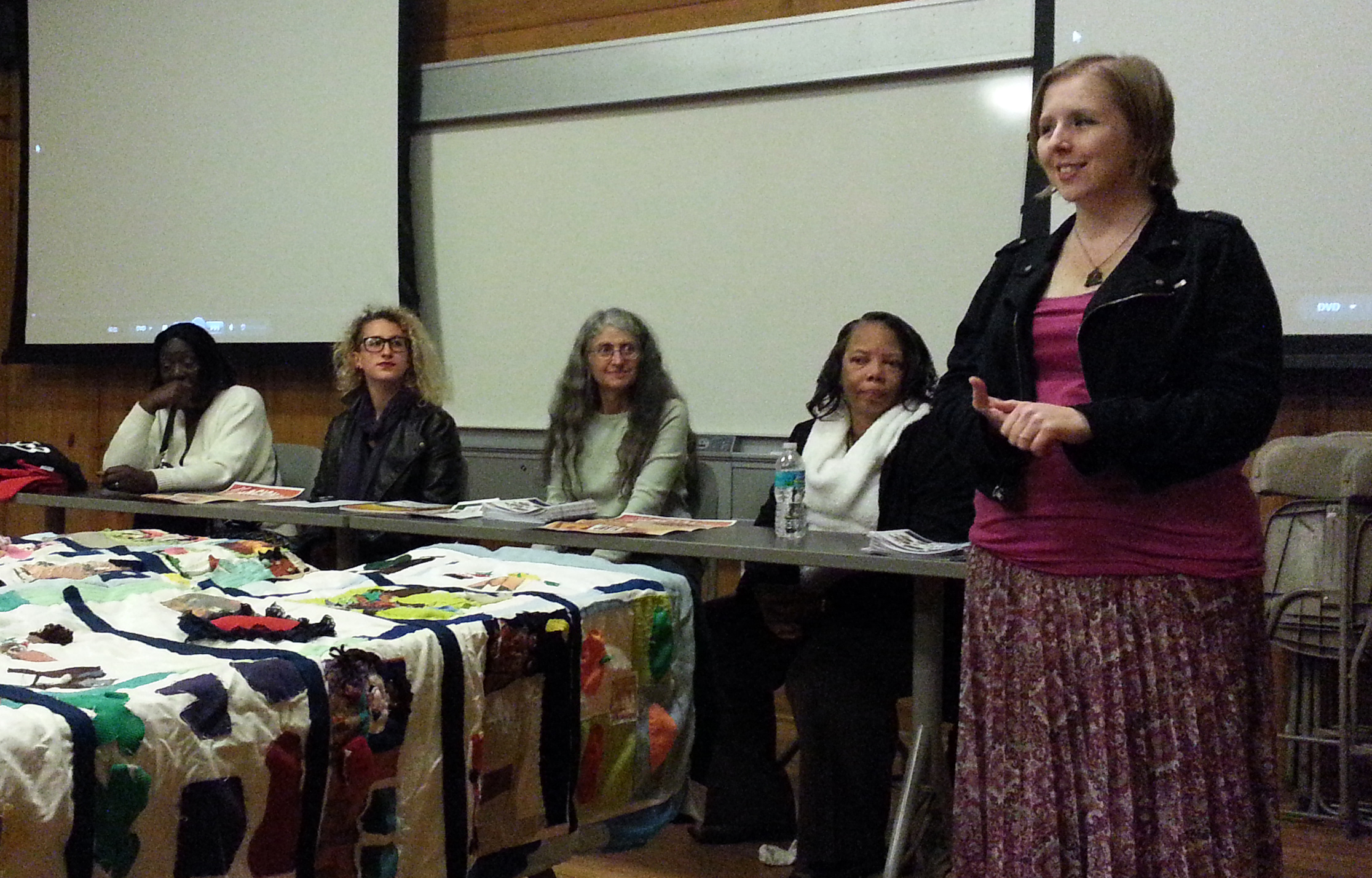 The panelists were comprised of four individuals: Jeanne Economos, from the Farmworker Association of Florida in Apopka; Emily Helm, President of Orlando YAYA; and two women, Geraldine and Linda, who are former farm workers and now involved in community work with the Farmworker Association of Florida.
After the film, Jeanne spoke about the history of farm workers – starting with slaves who were brought to work in agricultural on plantations or be domestic servants, and how those roles are still upheld nearly 150 years later. She noted that the only two types of workers who are offered no legal protections: farm workers and domestic workers. She discussed the work being done in Apopka regarding Lake Apopka and the Farmworker Memorial Quilt as an empowering way for farmworkers to share their experiences through art.
Geraldine and Linda shared their experiences as farmworkers; Geraldine talked about her experiences traveling with her family following the crops, and then settling back in to Apopka and working in Lake Apopka. Both Geraldine and Linda shared stories about the violence they witnessed in the fields by crew leaders, the lives lost and illnesses brought on as a result of pesticide exposure, and the pride that comes along with the work they have done. Geraldine noted something incredibly poignant, about how those involved in the farmworker solidarity movement are thinking about the workers, but how she stated the workers were thinking about the consumers and not wanting to pick a product that wasn't premium produce.
Emily Helm talked about Orlando YAYA, the current campaigns we are supporting – most notably YAYAs latest actions in solidarity with the Farm Labor Organizing Committee, and what YAYA can do in support of farmworker communities, whether it is an immediate need such as helping to paint the Farmworker Association of Florida – Homestead's building, or the Fellsmere Community Garden project, or standing in solidarity with the CIW's Fair Food Campaign.
Jeanne ended by asking people to act with something small, that everyone can do: as we embark on Thanksgiving, we should show thanks to the people who make it possible for us to eat every day. We are all complicit in this system of modern day slavery because we all consume food, so we must remember to not only thank a farm worker, but to not forget what it takes for us to eat.
Thank you to Geraldine and Linda for sharing their stories, for allowing us to ask questions, for all of the hard work you both did as farm workers and for the work you are doing for your community now. This was the first time I have heard both of these women share their stories, and I am so grateful to have had the privilege of listening to them.
Thank you to Jeanne and the Farmworker Association of Florida for allowing Orlando YAYA's to work with you, for your passion and knowledge and everything you do for the movement; and to Heather Rashal from Rollins for inviting Orlando YAYA to be a part of this evening. We hope that those in attendance learned something from the film and the panel, and will all think about where their food comes from and who made it possible as they stroll through the produce department.
Heather Graves
Orlando YAYA