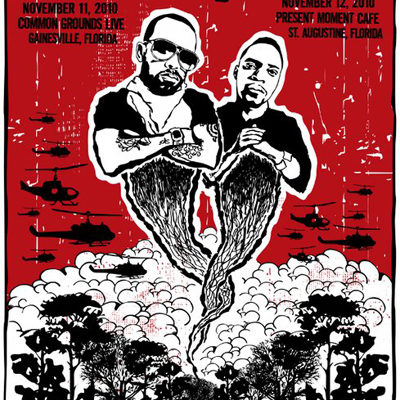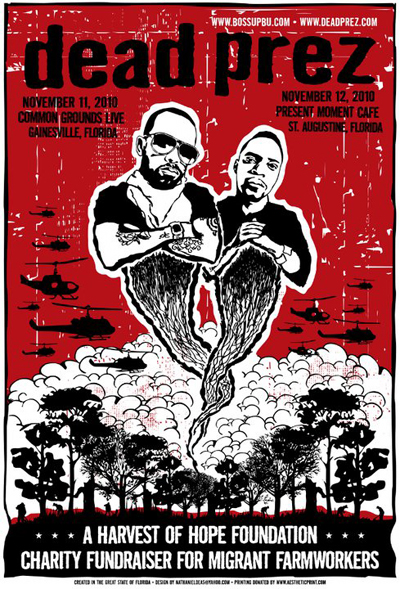 On Nov 12th, the hip-hop duo Dead Prez played a benefit show for the Harvest of Hope Foundation in Saint Augustine, Florida. I have been a DP fan since high school when I first heard their album Let's Get Free. Their brand of lyricism blends political consciousness about issues such as the prison industrial complex, police brutality, Pan-Africanism, and class struggle with hopeful messages about organizing, practicing martial arts, and eating a healthy diet.
When I found out they were playing a benefit for farm workers in the parking lot of my former employers, The Present Moment Cafe, I jumped at the chance to table there for YAYA.
The night turned out to be amazing. M-1 and Sticman of Dead Prez arrived early to eat at the restaurant and shake hands with the staff and customers. After meeting them I got down to business and set up our information table alongside the merchandise table from the Harvest of Hope foundation.
Phil and Ed Kellerman, founders of HOH which promotes shows and festivals to raise money for migrant farm workers, were extremely welcoming to me and supportive of the efforts of our organization. They provided me with a great spot to distribute literature and we exchanged stories and information about our work. I was very thankful for their support and I really hope that our organizations can collaborate in the future.
At the end of the night one of the men working security for HOH and for Dead Prez gave me a free poster and a big pound and said something like "keep fighting for migrant farm workers!" Solidarity among people working for the same cause: that's what's up!
I spent most of the night hanging out and talking to concert goers about farm worker issues. I got some people to sign up for the newsletter and talked to some awesome folks from Orlando and Jacksonville. I tried to meet people where they were at about the issues; talking to the restaurant patrons about pesticide and health issues and talking to some of the more radically minded youth about immigration and racial profiling in farm worker communities. I made some good contacts and hopefully reminded people about the reasons that the HOH is putting on these concerts to support farm workers.
All things considered it was a great night. I got to see a great show in the parking lot of a beloved small business in my hometown, talked to some musicians that I have admired since I was a kid, and all the while promote the work that we are doing to fight for justice with farm worker communities.
I thank everyone involved that made this event happen; the Kellermans, Dead Prez, the Present Moment Cafe, but most of all I thank Lariza Garzon for providing me with the materials and training, for this event. Without her efforts and the efforts of my other brothers and sisters in YAYA, I would not have been able to hold it down the way I did. Thanks to everyone reading this who is doing what Dead Prez deems "soldier work"- that is day-in and day-out working in solidarity with the poor, fighting for justice and liberation against dark forces that wish to enslave us. To the farm workers and to the allies in the struggle I will quote the chorus from an M-1 collaboration sung by Stori James:
"It could take some time, 'til we win this fight, 'til we get there, I am on your side."
Cole Lee
Orlando YAYA