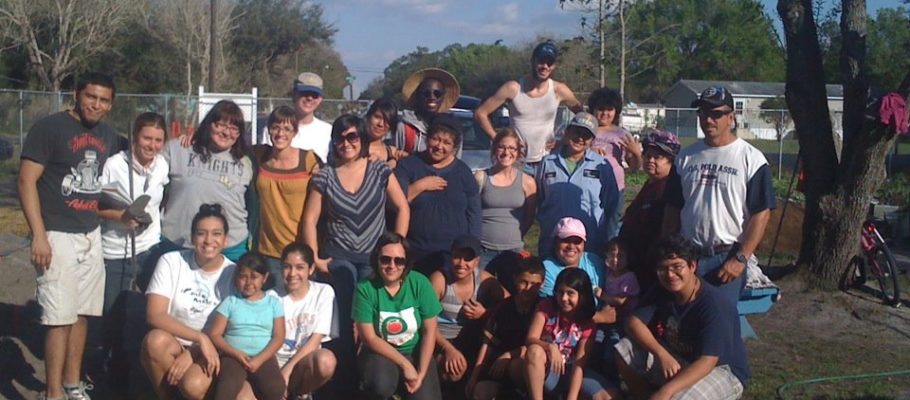 On Saturday, February 11, 2012, YAYA volunteered working in the community garden of Fellsmere, about an hour and a half south of Orlando. The weather when we left carpooling from Orlando was brisk, but sure enough, when we arrived in Fellsmere it was sunny, warm and welcoming. The perfect day to get ones hands dirty.
The people were just as warm. As soon as we entered their office everyone was greeted with hugs, besitos, and a table full of fresh cut fruit, cookies, and cafe'. Everyone took a seat facing one another, and introduced themselves, some in Spanish, and English speakers in broken Spanish.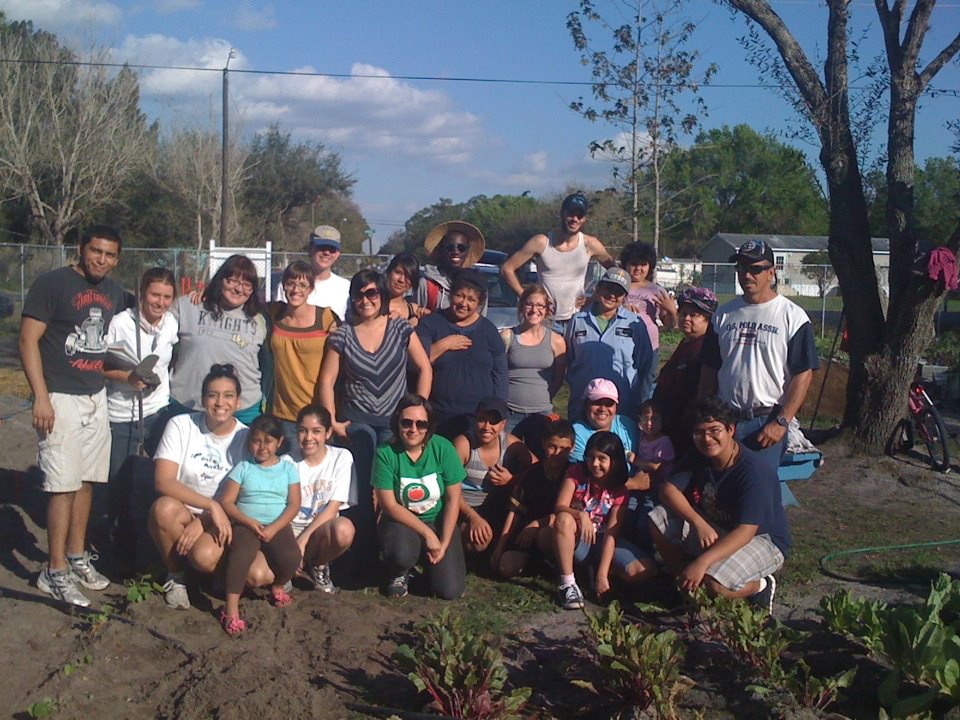 Yolanda and Daniel, members of the community and the Farm Worker Association of Florida, shared stories of struggles their community faced, including past town legislation that disallowed gardening tools to be in the front yards of houses without expensive fences to be built in an effort to shield their "dirty" gardening tools from view; stories about how they built a relationship with the town administration, many of them now on the committee board, to repeal acts that could negatively impact themselves like the one aforementioned; and the momentous victories they achieved, now managing four community gardens to help educate locals about how to grow their own food while also planting the seed of knowledge so a sustainable community can prosper. These accounts made me realize the importance of speaking up, of working together in order to create the changes we wish to see. The more I listened to their stories the more excited I became to be a part of this community.
The first stop after the office was at stop at local animal farm just down the road where we saw chickens, and rabbits for sale. Then, it was on to one of the four community gardens. It was a small plot, but beautiful, complete with a greenhouse where tomatoes were shaded from the sun, circular stone raised beds, and long rows of newly sprouting lettuce, green beans, and other organic delights.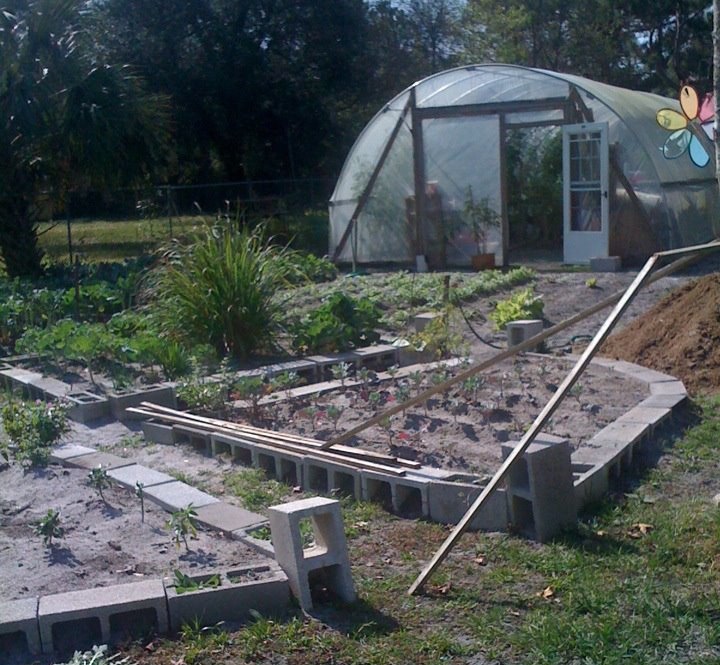 There was a lot to do, but plenty of helping hands to help. Families even brought their children to help water, and collect weeds. YAYA and the Fellsmere community alike pulled out dollarweed, harvested carrots, crushed plant-eating-worms, while some gathered horse manure from nearby. Later Christine, a local farm intern, showed everyone how to create rich, organic soil using the permaculture methodology she is studying. First, we laid down cardboard on top of the plowed dirt; then we spread manure to cover all the cardboard; lastly, we covered the manure with hay to protect it from losing nutrients under the scorching Florida sun, and watered it to keep it moist. In three months, with periodic watering, this manure would be nutrient rich soil (because we all know Florida dirt is really sand). We were all learners then, and knew there is so much more we can learn from each other.
After five hours of light labor in the community garden we had dinner back at the office prepared for us by the families we toiled with. There were rice, beans, homemade spicy salsa—and yes, even the rabbit we saw earlier. One YAYA member, Abi, had never tasted rabbit, and so a family purchased the rabbit from the animal farm we visited earlier, killed, cleaned and cooked it just for her to have some. As we ate and debriefed, there was an almost overwhelming sense of gratitude and thanks from all: the farm workers for our help, and support; and for YAYA, their welcoming of us into their community and treating us like family.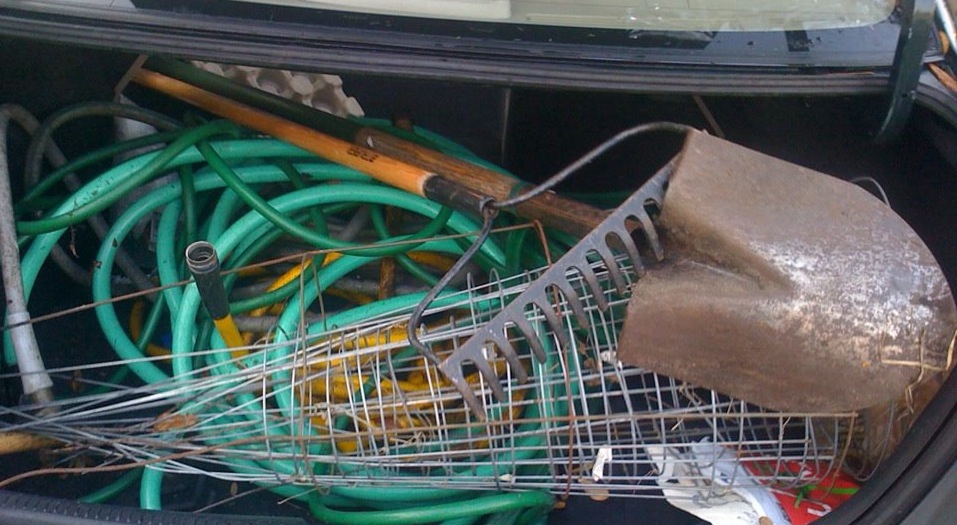 Since I am newly involved with YAYA, it is inspiring for me to see a group of youth not just fighting for improvement through voicing concerns – which has a place, but is only one element in the big picture – but also taking direct action in the communities themselves, building relationships with farm workers and learning from their experiences first hand.
Join YAYA next time and get out and garden with us. The farm workers community of Fellsmere showed us how to create gardens like theirs in our own communities, and we can show them we will always be there wholeheartedly supporting their work. Now, back to our homes, let us look for ways to provide our communities through the relationships we build in other communities, so we are all continually empowered with solutions that provide them with long-term labor and cost savings. Let's join together to research systems of permaculture, aquaponics, and other techniques of sustainable design so we can learn with them ways we can all increase our agricultural self-sufficiency. Farming will only prosper if we continue to join hands like we did that day.
Won't you come with us?
Eden Wetherell
Orlando YAYA