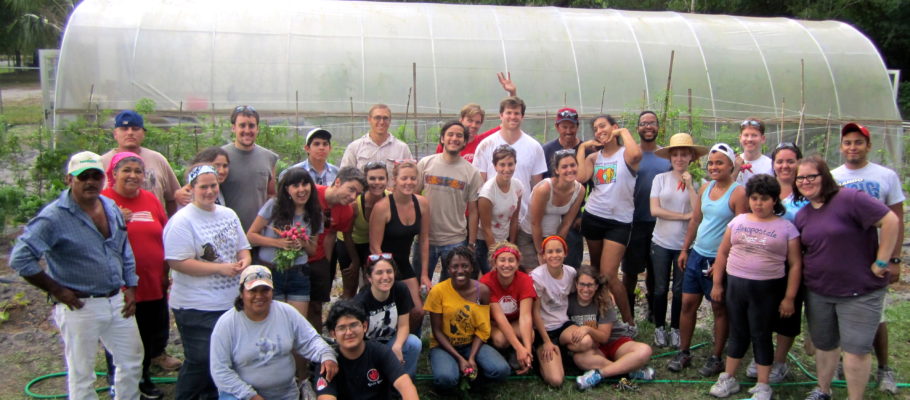 Our second community garden work day in Fellsmere was a success! Orlando YAYA is organizing these work days (at least twice a month until February 2013) to provide an opportunity for members of the Orlando community to work with and develop a relationship with members of the Farm Worker Association of Florida (FWAF) in Fellsmere. We do so by creating spaces for open dialogue, story sharing, and an opportunity to exchange skills and knowledge.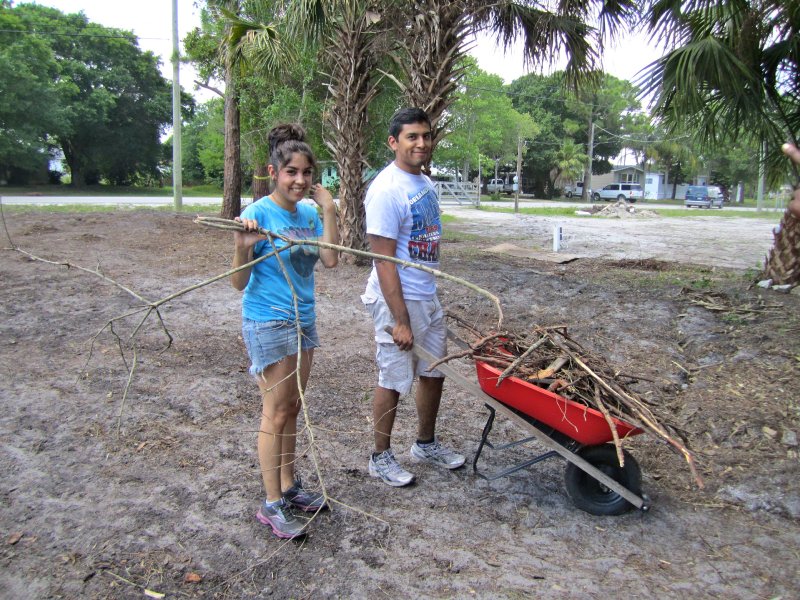 On this occasion we organized a group of people from the Global and Transnational Feminism class of the University of Central Florida (UCF), Occupy Orlando members and Orlando YAYA members (a total of 35 people).
We worked shoulder to shoulder with 25 members of Fellsmere FWAF, and we are happy with the results of our work: in addition to having worked on the community garden, we strengthened our relationship with the community of Fellsmere and we enhanced the commitment for farm worker justice of our members and volunteers.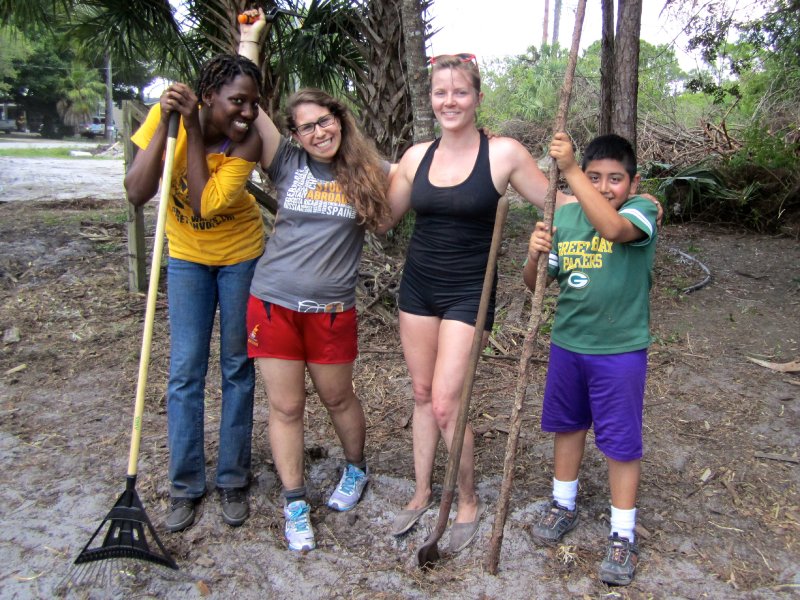 We would like to thank UCF students and YAYA members who in addition to volunteering their time at the garden also raised tools and money in support of the project. We look forward to continue working with FWAF and making the community garden a success!!!
**************************
"I attended the Fellsmere Community Garden as part of a service-learning project for a course at the University of Central Florida. Our class, along with a few other volunteers, arrived in Fellsmere on the morning of March 31st, 2012. The community greeted us with open arms and a breakfast spread of fresh fruit and homemade lentils.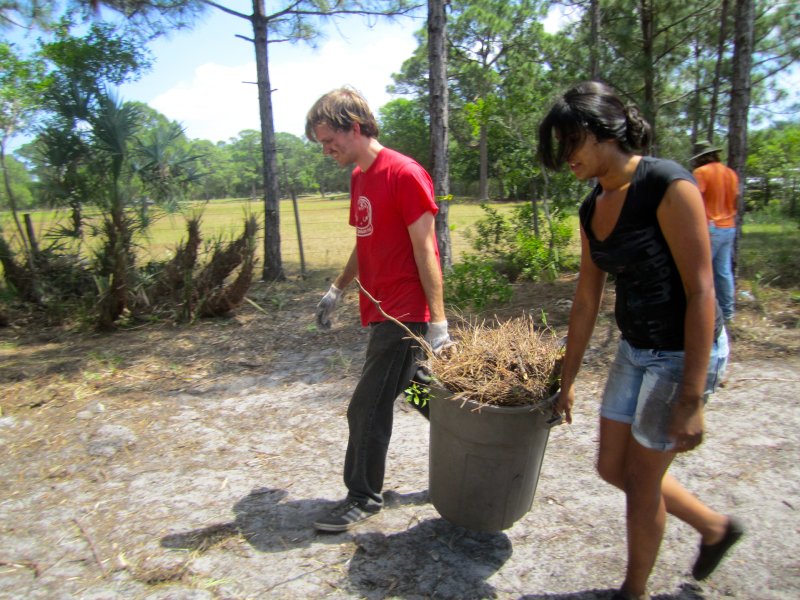 Introductions were announced in both Spanish and English, and translators were established so language barriers would not hinder communication amongst one another. We set to work clearing roots from a dirt plot that will eventually be home to a second community garden. While we all worked hard and got dirty, we were encouraged to drink water and seek shade or rest when needed. There was chatter and laughter and gratitude from both sides (the Fellsmere community and the volunteers), which created a friendly atmosphere. We all knew a good meal and a warm shower was in store for us at the end of the day. This is not the story for the average farmworker. For me, this realization/experience was equal parts humbling and inspirational.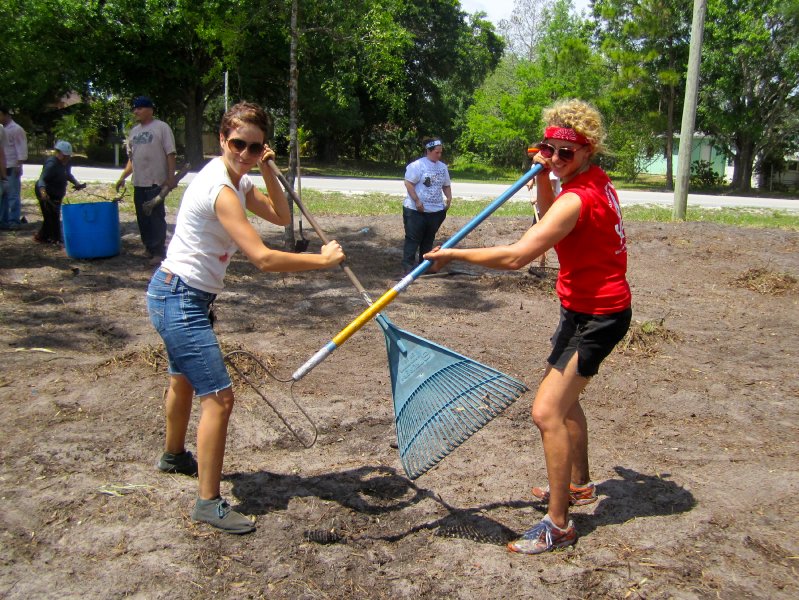 After lunch and a soccer game with the younger members of the community, we were able to check out the progress of the original garden, which was amazing (despite the locust and fire ants that tried to ruin my day). Daniel gave us a tour and encouraged us to try some of the vegetables: radishes, and leeks, and beets, oh my! A few of us took a trip to the office where Yolanda pulled chairs around the kitchen table and chatted with us about the trials of the community and life in general. Back at the garden, we had a final debriefing before hitting the road. Gratitude was expressed; invitations to return were extended; hugs and handshakes were given.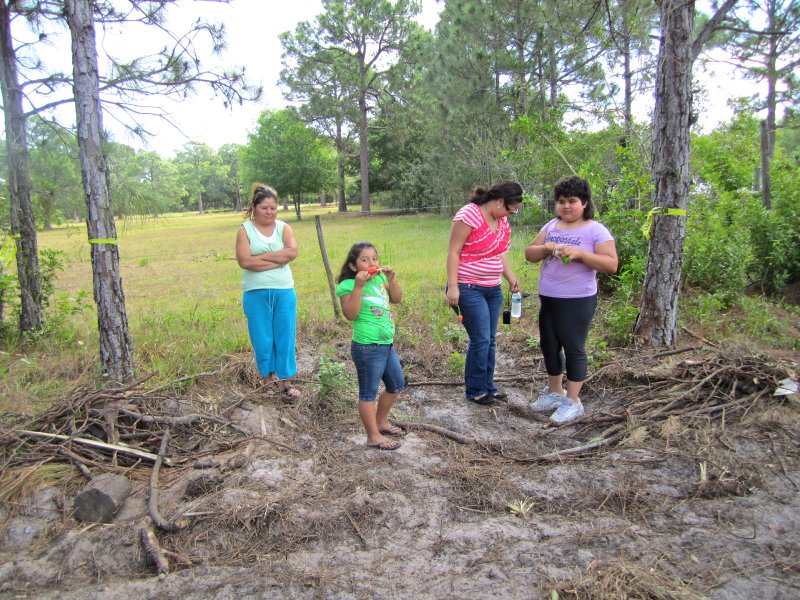 By opening up so graciously to visitors, the Fellsmere community is striving for at least one person to walk away with a better understanding of the importance of building relationships and working in solidarity for progress to be made in the arena of social justice. During this trip, that part of their mission was accomplished."
-Sara Matthews
UCF Student
This event was part of YAYA's Farm Worker Awareness Week events!
Photos courtesy of Heather Graves