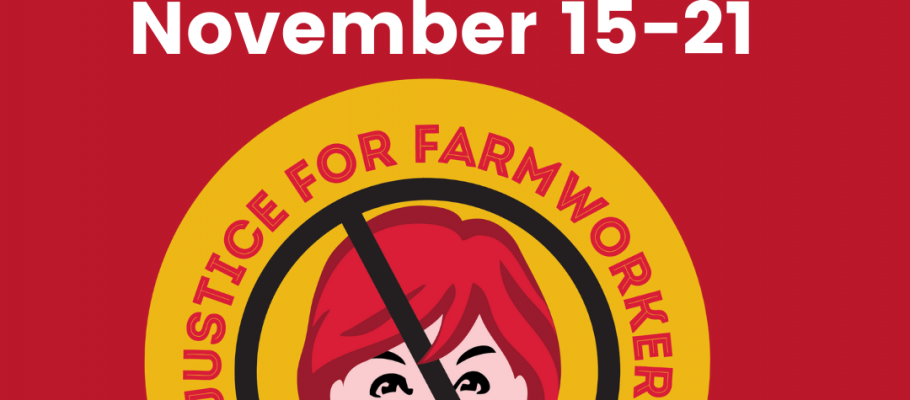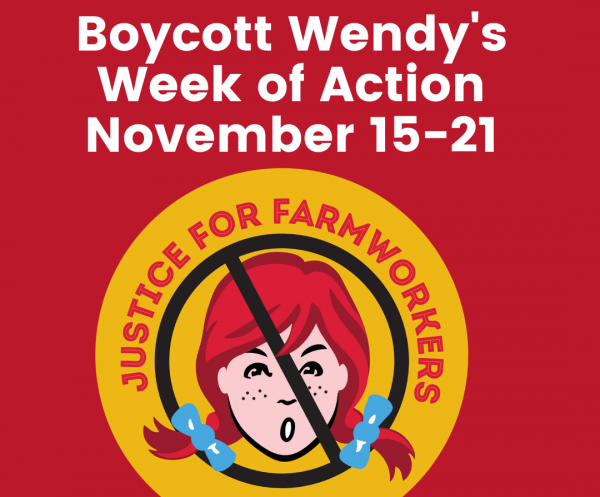 🚨 We participated in a series of five, 1-minute virtual actions in support of the Wendy's Boycott! 🚨
For one week, CIW will sponsored daily actions to continue to push Wendy's to sign the Fair Food Agreement, their worker-driven socially responsible model of food certification. Once a day from November 15-21, there were a series of five 1 minute virtual actions done to increase the pressure on all fronts of the Wendy's Boycott. NFWM will be sending out updates about those through our social media network so you can participate. You can also receive updates about these actions directly from CIW by signing up for their mailing list.
The schedule for CIW's Week of Action:
Monday, Nov 15 – Send an email to DoorDash's CEO Tony Xu asking him to meet with CIW farm workers and learn about the Wendy's Boycott! This action supports the Deliver With Dignity Campaign urging DoorDash to stop doing business with Wendy's until the company joins the Fair Food Program.
Tuesday, Nov 16 – Make a call to NYC City Council members asking them to co-sponsor Resolution 1156, a resolution supporting the Wendy's Boycott!
Wednesday, Nov 17 – Send a tweet to Ohio State University's President Kristina Johnson demanding that the university boot Wendy's off campus! For over seven years, OSU students have urged the administration to take a stance on farm worker justice and cut their contract with Wendy's once and for all.
Thursday, Nov 18 – Sign our petition asking DoorDash's CEO to cease doing business with Wendy's until the fast-food chain joins the Fair Food Program!
Friday, Nov 19 – Take to social media to let Wendy's know that its beloved founder Dave Thomas would never allow farm worker exploitation to be a part of Wendy's menu! Share our pre-made graphic online or make your own using the hashtag #DaveWouldNever.
Along with these actions, we encouraged supporters to deliver a letter to the manager of your local Wendy's this week to boost the impact even further. Print a copy of the letter, sign it, and deliver it to your local Wendy's manager. Then, please, let us know you have done so! You can also take a photo of yourself outside of Wendy's and post it on social media with the message, "Wendy's, SIGN the Fair Food Agreement. Support farm workers!" then tag the National Farm Worker Ministry. For those who do not have a social media account but are willing to do this, just email your photo to communications@nfwm.org and we'll post directly to the NFWM Facebook page. If you're interested in planning an in-person protest outside your local Wendy's and want help or resources from the CIW, contact organize@allianceforfairfood.org for support.
For more background on why this is important, go HERE. To learn more about the Fair Food Program and other food certification programs, go HERE and check out our Harvest of Justice video about food certifications programs HERE.
Thanks to all those who helped us promote the Ohio Faith Leader letter to coincide with this week's Wendy's Boycott Week of Action. We gathered signatures to add to the letter with our partners: Catholic Labor Network, Faith in Public Life and Vincentian Ohio Action Network. You can view the faith leader letter press release below.
Read the Press Release