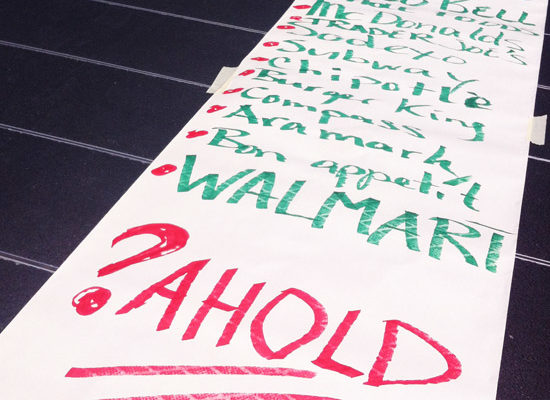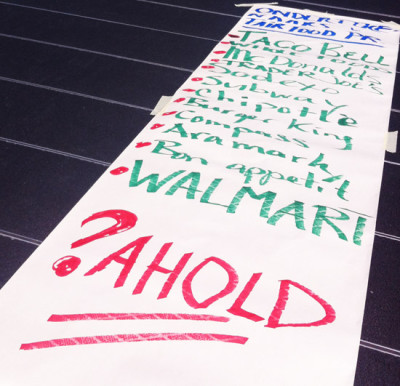 Supermarket giants across the country have signed on to the Fair Food Program with Florida based farm worker group Coalition of Immokalee Workers (CIW). However Royal Ahold, parent company of Giant and Stop and Shop Supermarkets, is still dragging their feet. For years, CIW has been in talks with Royal Ahold, only to be told that the Fair Food Program is not needed in their businesses.
CIW delegates traveled to Amsterdam, Holland in April to speak at Royal Ahold's Annual Meeting. Representing thousands of farm workers who pick the company's tomato supply, CIW's Lucas Benitez opened the questioning of the company's Board of Directors through his interpreter. He was quickly told by Ahold's Chairman Hommen to speak for himself, in English.
Benitez replied, "The thing is the farm workers who pick the tomatoes you sell in the United States speak Spanish. The profits that you all make are thanks in part to those of us who speak Spanish."
Despite Benitez's explanation, Chairman Hommen continued to insist that Benitez speak in English or not speak at all. Peter Sabonis of the National Economic and Social Rights Initiative and Dr. Karin Astrid Siegmann of the International Institute for Social Studies in The Hague followed Benitez's questions with demands that Ahold join the Fair Food Program. By the end, it was apparent that CIW's call for Royal Ahold to join them at the table was not heard.
Now is the time for Royal Ahold to hear CIW's calls. CIW needs our support in contesting Royal Ahold's inflexibility. Do you have a Giant or Stop and Shop Supermarket in your neighborhood? Print out a letter supporting the Fair Food Program and deliver it to your local Giant or Stop and Shop Supermarket manager. Educate them on why justice for farm workers matters to us all. More resources to support CIW's Fair Food Program can be found here.
National Farm Worker Ministry
Photo Courtesy of the CIW