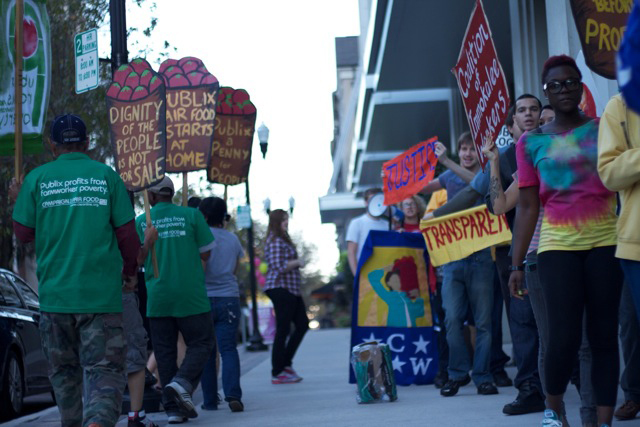 Last Saturday, February 2nd, I had the good sense to stand next to the Coalition of Immokalee Workers (CIW) as they continued to put pressure on Publix to sign the Fair Food Agreement. Luckily, I was not alone. About sixty picketers turned out to continue the fight against poverty and injustice in the fields.
As two sets of picket lines lined the streets of Downtown Orlando, demanding justice for farm workers, members of the CIW (many who had missed work to be there, or had lost a precious weekend day with their families) were in full force, chanting slogans in Spanish and English along with the First Unitarian Church of Orlando and YAYA members.
The demands are simple: by paying a penny more per pound of tomatoes, Publix will make great strides to stop the abuse of laborers and pay a wage that amounts to a sum above the poverty line. The Fair Food Agreement also advocates for the development and immediate implementation of an industry-wide Code of Conduct, with full participation of farm workers, in response to abuses in the workplace. In addition, this Agreement advocates for the dignity of farm workers and the acknowledgement that their contribution to the tomato industry is the most important and, as such, they must be allowed a seat at the decision-making table that is of equal status to that of the growers and corporations.
A delegation went inside the Publix overlooking Lake Eola in order to talk to the management. They reported back exciting news: the manager had been eager to listen to those describing the campaign, and recognized the responsibility that Publix has to pay a living wage. And it's not hard to see why the manager would agree; the Fair Food Agreement can only improve the tomato industry.
But the fight is not over and the demands are not yet met; and YAYA will continue to stand in solidarity with the CIW until all demands are met and Publix does the right thing.
Hayley Cavataro
Read more at The People's World and the Orlando Sentinel
Picures courtesy of Jake Ratner and Elena Stein