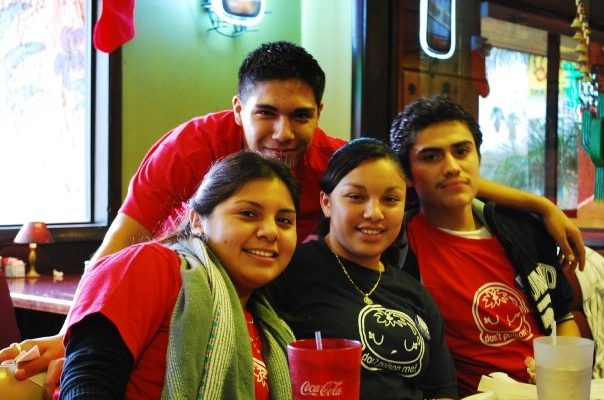 On December 6, 2009, the Coalition of Immokalee Workers organized a day full of activities in Lakeland, where around 500 people marched and rallied to ask Publix Supermarkets to take a stand against farm worker poverty and modern day slavery.
YAYAs from Orlando and Deland mobilized 30 people to the event. Here are some of their reflections!
"December 6, 2009, was the best experience of my life. I had fun, it was so exciting! At first I was shy but then I got used to it. I had adrenaline pumped in me. I felt pride and felt good to stand up for the farm workers. Honestly, I wanted to keep walking and cheering. I also had fun at the park. I felt a lot of energy in me; my blood was rushing through me. I felt anger and excitement at the same time. To top it all it was amazing and I would love to do it again anytime. Oh and I liked the chants, I can't get them out of my head. IT WAS THE BEST!!!"
-Ezequiel Hernandez, 16 years old, Deland YAYA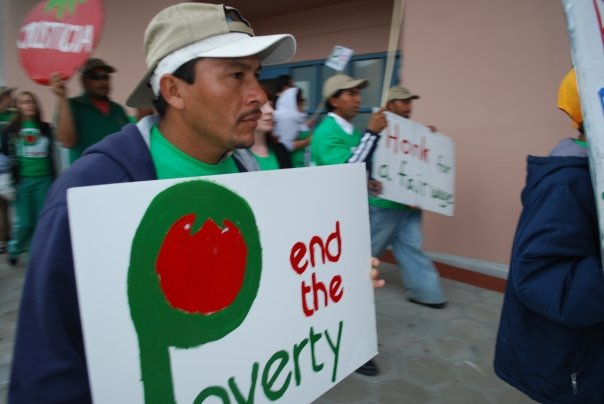 "The most memorable moment of the rally was witnessing little children and young adults chanting with as much enthusiasm as the adults. I was really impressed with how inclusive the atmosphere was, everyone appreciative of each other's presence and support. I'm really excited to be part of a fight for justice, and I feel that we were heard today. Our voices do matter and do make a difference, and I'm just really grateful for everyone involved."
-Nicole Godreau, UCF, Orlando YAYA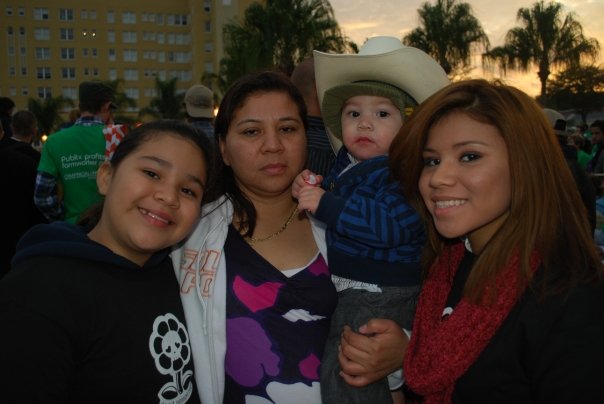 "Today, I got to visit Lakeland to support the CIW once again as they rallied to get Publix to enter in an agreement with them. This was my second rally supporting them, my first one was in Orlando a few months back and I expected something similar but I was overwhelmed when we arrived at the Publix in Lake Land. There were around 500 people marching in solidarity with farm working families and communities!
The march itself was filled with great chants and great people. We marched from the Publix to the end point, which was, from what it seemed, right in downtown Lake Land at a great plaza. The rest of the night was filled with great speakers and testimonials from actual children of farm
was filled with great speakers and testimonials from actual children of farm workers from Immokalee, something I have never witnessed. It was nice getting a chance to see things from their point of view and it showed me who we are fighting for.
At the end there was free pizza! I could not partake since I'm vegan but it was a great gesture nonetheless. Overall this rally strengthened my belief in our cause, seeing so much support from such a diverse community opened my eyes."
-Juan Barredo, UCF, Orlando YAYA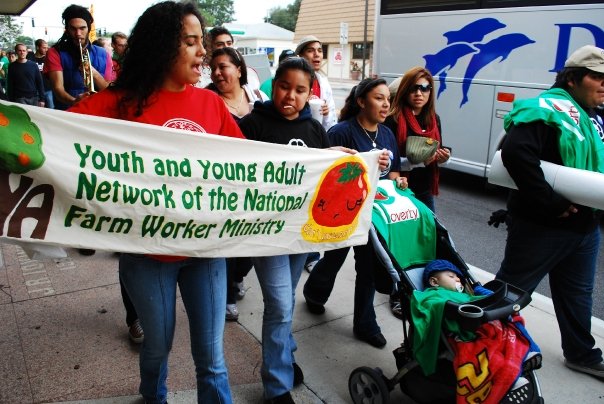 "Participating in the march in Lakeland was amazing. It was an honor to be marching together with workers, friends, and allies from all times and places. I was especially proud to be present with Deland YAYA. Their enthusiasm inspires me and I expect them to do great things. It was empowering to see so many people from all over the state coming together in solidarity with the CIW. It is a shame that Publix has not met the modest demands of the Coalition, even after so many corporations have signed agreements with the workers. Being present at Sunday's action has bolstered my confidence in the essential outcome of this campaign: Victory! Hasta la Victoria…"
-Cole Lee, St Augustine, Florida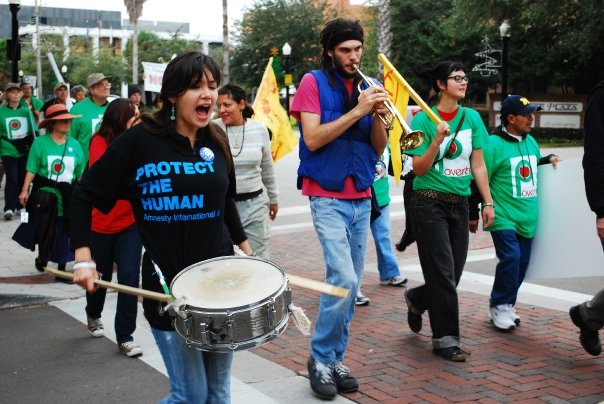 – Click here to learn more about the CIW and their campaign for fair food
– Click here to watch a video from the march made by Jacques-Jean Tiziou
(Photos courtesy of Juan Barredo and Colleen Mulholland)